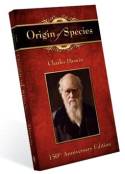 Wow. Just, wow. I know I've talked about Ray Comfort more times on this blog than is healthy (for example - here, here, here, here, here, and here), but now, not just is he publishing his drivel on his own, making scam websites, or getting followers to put the equivalent of junk mail into books at the book store. Now, he's been published in a blog on the U.S. News and World Report website, and boy is it ignorant.
The background of this article is this. Ray Comfort is publishing two versions of a reprint of Darwin's Origin of Species, along with an introduction in each version. The first version was abridged, and the introduction was made publicly available on the web. After the negative publicity it received, Comfort made his second version unabridged, and supposedly with a modified introduction. To give an idea of the introduction, here's how Comfort himself described it (be forewarned - there are many falsehoods and examples of bad logic in just these two paragraphs*).
This introduction gives the history of evolution, a timeline of Darwin's life, Hitler's undeniable connections to the theory, Darwin's racism, his disdain for women, and his thoughts on the existence of God. It lists the theory's many hoaxes, exposes the unscientific belief that nothing created everything, points to the incredible structure of DNA, and the absence of any species-to-species transitional forms.

It presents a balanced view of Creationism with information on scientists who believed that God created the universe—scientists such as Albert Einstein, Isaac Newton, Nicholas Copernicus, Francis Bacon, Michael Faraday, Louis Pasteur and Johannes Kepler. It uses many original graphics and "is for use in schools, colleges, and prestigious learning institutions." The introduction also contains the entire contents of the popular booklet, "Why Christianity?"
Towards the end of September, Dan Gilgoff posted an entry in his God & Country blog on U.S. News & World Report describing Comfort's book (the first version). After all the feedback Gilgoff got for that entry, he decided to revisit the issue. He set up an online debate between Ray Comfort and Eugenie Scott, the executive director of the National Center for Science Education. The debate consisted of four posts in total - Comfort's original argument, Scott's original argument, Comfort's response to Scott, and finally, Scott's response to Comfort.
I guess there are several ways I could have addressed this in a blog post, but I've decided to focus on Comfort's second post. That one struck me as so out and out ignorant, that it seemed a ripe target. I encourage you to read Scott's response first, but I thought I could supplement what she already wrote.
Continue reading "Ray Comfort - Still Ignorant on Evolution" »