The 2014 Texas Republican Party Platform has been approved. I've made a habit out of reviewing several of their previous platforms (2008, 2010, and 2012), so I figured I'd take a look at this one, as well.
For anyone interested in reading it, the platform can be found at the following link:
Republican Party of Texas Platform 2014
It's amazing just how bad the platform is. It seems like the type of ranting you'd hear from your crazy uncle at family reunions, not the official platform of what's supposed to be a respected political party. It's not just a few isolated statements here and there taken out of context, but statements throughout the entire platform. When I was skimming through a draft copy of the platform, I'd jump a few pages at a time at random and see what that section had to say, and every time but one, there was at least one outrageous plank. The lone exception in my random jumping was when I landed at the end of page 39: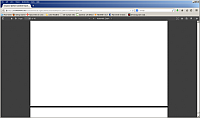 Yes - it's blank. About the only way for the Texas Republican Party to not say something outrageous is to just not say anything at all. Okay, that's not completely true. When they're extolling the virtues of mom, baseball, and apple pie, they mostly say things I agree with. It's when they get past the platitudes that the lunacy really comes forth.
To give a humorous introduction before I get into my own review, I'll recommend the Wait But Why entry, The Battle to Lose the Independent Vote, as a fairly accurate representation of how I feel about the current state of politics - Democrats win the sane vote by default, not because of any particular merit on their part, but simply because the Republican Party has become so crazy.
Since this year's platform is very similar to those from years past, I'm going to quote/paraphrase my impression from previous entries: This platform has simply reinforced what I already knew about the Republican Party - their mangling of history, the injection of religion into politics, their opposition to science, the suppression of free speech, their bigotry towards homosexuals, their isolationist views on international issues, their desire to impose their morality on everybody, their disregard for the checks and balances in the federal government with their desire to limit the judiciary's power, and, surprisingly, how much of the platform was based on utter nonsense (well - surprising the first time I read their platform, not so much anymore).
I've also tried to stick mostly with quoting planks I haven't addressed before, since you can read my old entries for my takes on them, but there are several planks so bad that they have to be called out every time they appear. But even with that limit, this entry got pretty long, because there are so many bad planks.