Reviewing through the comments of the blog to clean out spam, I came across a comment that I'd accidentally left held up in moderation, a comment to the entry, Response to Global Warming Denialist E-mail - Volcanoes and Global Cooling. When I Googled certain phrases from the comment, I got back hundreds of returns from Google. The commenter, Harold Faulkner, is plastering blog comment threads and Internet discussion forums with this article of his.
I also realized that I'd read Faulkner's comment before. He'd e-mailed it to me right about the same time he left the comment on this blog. In good faith, I sent him a reply addressing portions of what he'd written, but I never heard back. Of course, at the time, I didn't realize that he was simply spamming hundreds of people with this article. Now that I've come across all this again, I decided that I'd adapt and expand that original response into a blog entry all its own. Since there are probably many variations of this article (I'm not going to click on each Google return to compare them), I'm going to focus just on the one he e-mailed to me.
Faulkner began his article with the following question:
People in the USA, are being told by the U.S. government and media that global warming is man-made. If that is true, how can the government and media explain the high temperatures the earth has experienced in past years when there were far fewer people?
He followed that up with the following graph to support his case: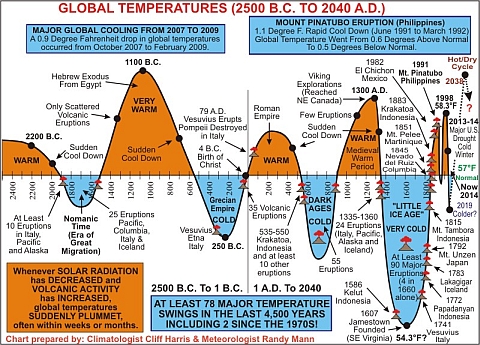 Click on image to view full size

The first red flag for that graph should be that there's no scale given for the y-axis. Further, the relative heights of the different peaks and valleys don't match with what I've seen from reputable sources. Practically every graph I've seen of reconstructed historical temperatures looks about like this: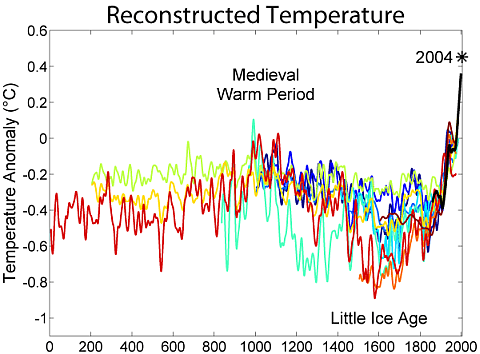 Click on image to view full size
"2000 Year Temperature Comparison". Licensed under CC BY-SA 3.0 via Wikimedia Commons

Here's another graph, but going back much further in time:

Click on image to view full size
"All palaeotemps" by Glen Fergus - Own work. Licensed under CC BY-SA 3.0 via Wikimedia Commons

Since both of those graphs were made a few years ago, here's a more recent graph that goes right up to almost the present day, though with a shorter overall timeframe than either of the two other graphs: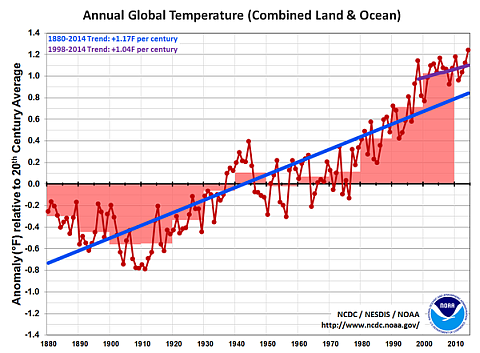 Click on image to view full size
Source: USA Today - Record! 2014 was Earth's warmest year

Note that in all those graphs, unlike in the graph Faulkner provided, the warming continues right up to the present day. In fact, 2014 is the warmest year on record.
Of course, there are many factors affecting the Earth's climate, and as the climate was varying long before humans were around, human activities aren't the only cause. It should go without saying that climatologists are already well aware of those causes and include them in their studies. I mean, you'd have to have a very, very low opinion of climatologists to think that they ignored those natural causes or were so ignorant that they didn't even think to study them.
If you look at the second of the reputable graphs above, the main thing you notice about modern day global warming is how rapid it is. It's unprecedented as far back as the temperatures have been reconstructed. No natural variations have created a temperature change as rapid as the one we're experiencing right now.
Faulkner also tried to downplay the effect of CO2 and instead say that climate change is natural variation due to other factors. Here Faulkner basically describes the Milankovitch Cycles, but seems to be saying these are the primary driver of current climate change.
The above points out that the universe is too huge and the earth is too small for the earth's population to have any effect on the earth's temperature. The earth's temperature is a function of the sun's temperature and the effects from the many massive planets in the universe, i.e., "The gravity of the Moon and (to a lesser extent) of the Sun makes the Earth's axis swivel around like a tilted spinning top. Other planets of the Solar System especially Jupiter, Mars and Venus, influence the Earth's tilt and the shape of its orbit, in a more-or-less cyclic fashion, with significant effects on the intensity of sunshine falling on different regions of the Earth during the various seasons."
As I said above, you'd have to have a very low opinion of climate scientists to assume that they don't understand actual climate science. The issue is that current CO2 levels are dwarfing effects such as the Milankovitch cycles, causing the current warming.
To further his attempt to downplay the effects of CO2, in one of his 'fun facts', he pointed out what a small fraction of the atmosphere CO2 constitutes.
At 380 parts per million CO2 is a minor constituent of earth's atmosphere--less than 4/100ths of 1% of all gases present. Compared to former geologic times, earth's current atmosphere is CO2- impoverished.
Well, that is true, but it doesn't change the fact that CO2 is a greenhouse gas that does significantly affect global temperatures. This isn't controversial among scientists. It's why Venus is so hot. The greenhouse effect is also why Earth isn't a giant snowball, so it's a good thing. But just like poisons, it's the 'dose', so to speak, that's important. The past 10,000 years have had a relatively stable climate, and civilization has sprung up and flourished in that time. But this stability is important. If climate and weather patterns change, current 'bread bowls' may end up as dust bowls. And with rising sea levels, some current ocean front property may quickly become a whole lot less valuable. If this change was occurring over thousands of years, it wouldn't be much of a problem. People would slowly adapt. The fact that it's occurring over 100 years or so is what makes it such a big problem. The adaptation will have to be very rapid, which in turns means it will be costly, and there will likely be a good bit of suffering involved.
I'm not going to point out the problems with all of Faulkner's stats, but I'll tackle the first one from his list of Fun Facts about CO2:
Of the 186 billion tons of carbon from CO2 that enter earth's atmosphere each year from all sources, only 6 billion tons are from human activity. Approximately 90 billion tons come from biologic activity in earth's oceans and another 90 billion tons from such sources as volcanoes and decaying land plants.
I'm actually not going to fact check his numbers*, but instead point out how this is a very misleading way of looking at the issue. There are short term and long term carbon cycles. In the short term, biological activity does release a lot of CO2 into the atmosphere (both marine and land based). But in that same timeframe, other biological activity (plants & algae), is absorbing that CO2 for photosynthesis. For the most part, that cycle is pretty balanced, with emissions matching absorption. In other words, if there were no other inputs to the cycle, atmospheric CO2 levels would stay at equilibrium. There's also a long term cycle. Some biological and geological factors absorb CO2 and trap it, such as fossil fuels. Other geological factors emit small amounts of CO2 into the atmosphere, like volcanoes. The natural inputs to this long term cycle are also more or less in equilibrium. But what's happened recently, is that humans started digging up all these fossil fuels and burning them. We've thrown off the equilibrium. All this carbon that had been sequestered and was destined to only be released to the atmosphere slowly at some point in the distant future is now being put into the atmosphere over the course of decades. The normal sinks that would absorb this CO2 and sequester it just can't keep up. So, even though human CO2 emissions from fossil fuels make up only a small percentage of total CO2 emissions each year, it's a cumulative process. Each year, more and more carbon builds up in the atmosphere, leading to more global warming.
To use an overly simplistic way of looking at it - just assume for the sake of argument that natural CO2 emissions are balanced by natural CO2 sinks, but that any man-made emissions just build-up in the atmosphere. Using Faulkner's numbers*, if human activity accounts for 6 billion tons annually, in 30 years that excess would match the yearly carbon cycle. So, using these overly simplistic assumptions, that would represent a doubling of atmospheric CO2 in 30 years, or a tripling in 60 years. Luckily, the real world isn't that simplistic, and natural carbon sinks can absorb more than just the natural carbon emissions, but this shows how this imbalance is a cumulative effect that builds over the years. In reality, current CO2 levels around about 43% higher than pre-industrial levels (Wikipedia).
I'll give another example, using myself as an analogy. Like many people at the start of the year, I started a diet. I didn't changed my eating patterns much, just a few hundred calories per day. That calorie deficit is pretty small on a daily basis, and only slightly less than the calories I burn in a day, but it builds up over time. In two weeks, I'd lost a few pounds, and over the course of a few months, the effect was a sizeable percentage of my body weight. That's how it is with anthropogenic CO2. It's a shift in the balance of the carbon cycle that builds up over decades.
Anyway, this is just one more example of a climate change denialist spreading misinformation, but since he tried it on my site, I felt a bit of an obligation to reply.
---
Image Source: Wikimedia Commons
*Actually, if you go and check out the blog entry where Faulkner originally left his comment, Response to Global Warming Denialist E-mail - Volcanoes and Global Cooling, you'll see that his numbers are off. He's claiming 6 billion tons of CO2 from human activity, while the USGS estimated it at closer to 35 billion metric tons in 2010 (38 billion short tons). He was off by over a factor of 6.
For the sake of people who might google phrases from Faulkner's article, or for anyone who's interested in reading it, I've put his full article below the fold.
Continue reading "Response to Harold Faulkner's Global Warming Denialism" »