Take a look at what's been popping up all over the city of Wichita Falls, Texas.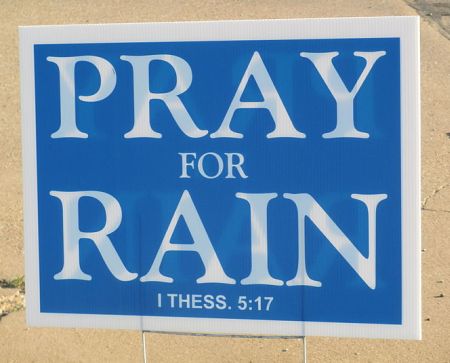 Pray for Rain
The bottom of the sign is a reference to 1 Thessalonians 5:17, which states simply, "pray without ceasing".
Perhaps a little background information is in order. Wichita Falls has a serious problem: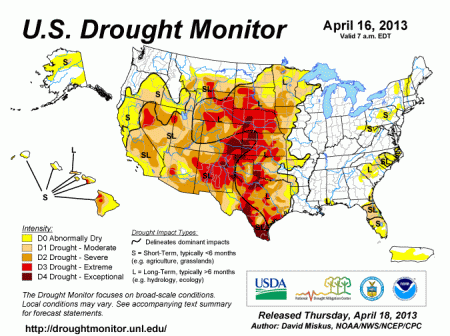 Wichita Falls is located just a little to the east of the dark spot in north central Texas - not in the absolute worst of it, but still in D3 Drought. Our reservoir levels are the lowest they've been in decades, and the drought forecast doesn't look like we're getting relief any time soon.
I know that in times like this, people feel helpless and look for anything they can do to try to make things better. And there's nothing particularly horrible about these signs. There's just something about them that rubs me the wrong way. Maybe it's the fact that they're everywhere, and that all the money people have been paying for signs could have gone into something more productive. Maybe it's the idea that a god would be so capricious as to cause a drought until some prayer quota's been met, at which point he'd finally send some relief. Maybe it's the fact that people in the 21st century are still doing the equivalent of a rain dance to the gods. Maybe I'm just becoming too curmudgeonly.
Oh well, live and let live. If putting up signs in their yards makes people feel better, who am I to complain too much about it.
More Info:
Image Sources: Wikimedia, University of Nebraska-Lincoln