I received an e-mail forward the other day, which contained a PowerPoint presentation giving the supposed origin of Arabic numerals. It claimed that when each number is written with only straight lines, the number of angles created is the same as the quantity being represented. The text accompanying the presentation made the additional claim that these numerals have remained unchanged for thousands of years.
That explanation is completely false. I won't go into detail on the origins of the numerals in this entry since there are already sources that cover this. There are several Wikipedia articles that overlap on this subject. The first one below is probably best for the history of the symbols. The second one has some good general information. The third one has a good picture of the first known use of Arabic numerals in Europe.

Hindu-Arabic Numeral System
Arabic Numerals
History of the Hindu-Arabic Numeral System

The unique feature of our numbering system, having each position represent a power of 10 (as opposed to a system like Roman numerals), developed some time between the first and sixth centuries. Most of the symbols in that early system came from Brahmi numerals (which themselves came from earlier sources), but a few seem to have come from other sources, such as Buddhist inscriptions. The symbol for zero is an exception, having been invented around the same time as the decimal numbering system. There's some question to how those Brahmi symbols were developed and what they originally represented, but it certainly wasn't for counting angles. One, two, and three are pretty easy, since, like Roman Numerals, they were simply one, two, or three lines (even in Arabic numerals, one, two, and three all seem to have been originally related to simple counting - follow those links). The other symbols may have come from their alphabet.
At any rate, the symbols have evolved quite a bit over the centuries, going down different paths in the different regions where they've been used. I've borrowed one of the images from Wikipedia and posted it below, a table compiled in 1757 showing various usages of numerals in European history (go to Wikipedia for a higher resolution image). Not only would we have a hard time reading the numbers from other regions of the world today, we'd have a hard time reading some of the earliest European uses.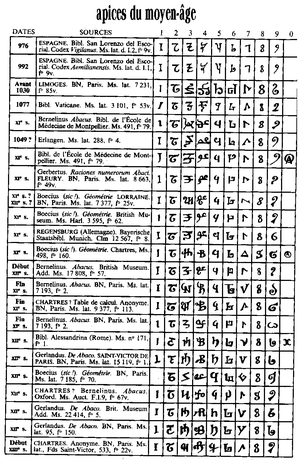 Continue reading "Origin of Arabic Numerals - Was It Really for Counting Angles?" »