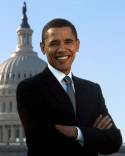 Well, I got another e-mail that I couldn't help but respond to, and that I figured was worth publishing my response on this blog. I don't mean to makethis blog too political (there are a lot of other things I like much more than politics), but recycling e-mails is an easy way to come up with blog entries.
Anyway, like normal for these things, I've formatted the entry to put the original e-mail in blockquotes, followed by my responses (edited just a bit from the e-mail version). My responses are not meant to be a complete point by point refutation of the e-mail, but only cover the most outrageous statements.
Krauthammer's Views on President Barack Obama

Dr. Krauthammer is on Fox News. He is an M.D. and he is paralyzed from the neck down. Be forewarned on what is happening. A friend went to hear Charles Krauthammer. He listened with 25 others in closed room. What he says here, is NOT 2nd-hand, but 1st.

Last Monday was a profound evening, hearing Dr. Charles Krauthammer speak to the Center for the American Experiment. He is brilliant intellectual, seasoned and articulate. He is forthright and careful in his analysis, and never resorts to emotions or personal insults. He is NOT a fear monger nor an extremist in his comments and views. He is a fiscal conservative, and has a Pulitzer Prize for writing. He is a frequent contributor to Fox News and writes weekly for the Washington Post. The entire room was held spellbound during his talk. I have shared this with many of you and several have asked me to summarize his comments, as we are living in uncharted waters economically and internationally.
According to Krauthammer himself, this is not an accurate representation of his talk. Remember not to trust anything in an e-mail until you've seen independent confirmation somewhere else.
http://www.snopes.com/politics/soapbox/krauthammer.asp
The authorship says nothing about the validity of the claims. However, realize that it means that these are just the thoughts of somebody with an e-mail account, not those of somebody with the credentials of Krauthammer.
1. Mr. Obama is a very intellectual, charming individual. He is not to be underestimated. He is a cool customer who doesn't show his emotions. It's very hard to know what's behind the mask. Taking down the Clinton dynasty from a political neophyte was an amazing accomplishment. The Clintons still do not understand what hit them. Obama was in the perfect place at the perfect time.
Nothing to refute, since it's just claiming that Obama is a good politician.
2. Obama has political skills comparable to Reagan and Clinton. He has a way of making you think he's on your side, agreeing with your position, while doing the opposite. Pay no attention to what he SAYS; rather, watch what he DOES!
Nothing to refute here, either. It's simply saying that, as with all politicians, pay attention to their actions, not their campaign promises.
3. Obama has a ruthless quest for power. He did not come to Washington to make something out of himself, but rather to change everything, including dismantling capitalism. He can't be straightforward on his ambitions, as the public would not go along. He has a heavy hand, and wants to level the playing field with income redistribution and punishment to the achievers of society. He would like to model the USA to Great Britain or Canada .
Seems a bit hyperbolic, don't you think? A bit inconsistent, too, claiming Obama wants to dismantle capitalism, while at the same time claiming Obama wants to model the US after the UK and Canada, both of which are capitalist.
As far as leveling the playing field, yes Democrats do favor a bit more redistribution than Republicans. I tend to agree with some redistribution which I've already explained previously. I have to admit to benefiting from that redistribution myself, since I took advantage of government scholarships to help pay for my college (actually, I know very few people who went to college without some sort of financial aid from the government).
4. His three main goals are to control ENERGY, PUBLIC EDUCATION, AND NATIONAL HEALTH CARE by the Federal government. He doesn't care about the auto or financial services industries, but got them as an early bonus. The cap and trade will add costs to everything and stifle growth. Paying for FREE college education is his goal. Most scary is his healthcare program, because if you make it FREE and add 46,000,000 people to a Medicare-type single-payer system, the costs will go through the roof.. The only way to control costs is with massive RATIONING of services, like in Canada . God forbid.
As I've said many times, economics isn't my strong point. I'm sure a carbon cap and trade system will raise prices somewhat, but how else do we pay for the development of technologies to reduce greenhouse gas emissions? Even if Krauthammer or the author of this e-mail have a different proposal than a cap and trade system, the money for that development has to come from somewhere, which ultimately means from us, either in higher taxes or higher prices on goods.
Is a free college education really that bad of a thing? Does the author think higher education should be reserved only for those that can afford it?
As far as health care, I'm getting a bit sick of hearing people only refer to Canada or the UK when complaining about universal health care (and stretching the truth when referring to those two countries, as well). Why doesn't anyone ever talk of the Netherlands, France, or Spain? On this blog, I've already referred previously to a good article comparing health care in the U.S. to the rest of the industrialized world. Here it is again.
http://scienceblogs.com/denialism/2009/05/are_patients_in_universal_heal.php
Here's another link, this one from the World Health Organization. In 2000, it ranked the U.S. health care system 37th in the world.
http://www.who.int/whr/2000/media_centre/press_release/en/index.html
As far as the rationing comment, the only way to control costs of any health care system with finite resources is through some sort of rationing, which is currently being done in the U.S. primarily by the private insurance companies. In the real world, where we don't have unlimited money to spend, some amount of rationing has to be done, no matter how much we may dislike it.
I've written a bit more on the health care issue here.
5. He has surrounded himself with mostly far-left academic types. No one around him has ever even run a candy store. But they are going to try and run the auto, financial, banking and other industries. This obviously can't work in the long run. Obama is not a socialist; rather he's a far-left secular progressive bent on nothing short of revolution. He ran as a moderate, but will govern from the hard left. Again, watch what he does, not what he says.
This author really thinks Obama has surrounded himself with the far left? The main complaint I've seen on more liberal sites is that Obama is too far right. He's made a point to include many moderates and even Republicans in his appointments.
http://www.politico.com/news/stories/1208/16734.html
I think the words that this author used perjoratively are interesting. For example, 'far left academic types'. Is he implying that educated and liberal are the same thing? Does he have a problem specifically with educated people? The other interesting term was 'secular progressive'. What's wrong with secular politicians? We have a secular government. Most activities we perform are secular. Does this author want a theocracy?
And what's with the hyperbole with 'revolution'?
6. Obama doesn't really see himself as President of the United States , but more as a ruler over the world. He sees himself above it all, trying to orchestrate and coordinate various countries and their agendas. He sees moral equivalency in all cultures. His apology tour in Germany and England was a prime example of how he sees America , as an imperialist nation that has been arrogant, rather than a great noble nation that has at times made errors. This is the first President ever who has chastised our allies and appeased our enemies!
This isn't even consistent. Obama supposedly sees himself as ruler of the world, yet travels the world apologizing for our mistakes? And why do people consider it unpatriotic to own up to mistakes?
7. He is now handing out goodies. He hopes that the bill (and pain) will not come due until after he is re-elected in 2012. He would like to blame all problems on Bush from the past, and hopefully his successor in the future. He has a huge ego, and Mr. Krauthammer believes he is a narcissist.
Not enough of substance here to refute.
8. Republicans are in the wilderness for a while, but will emerge strong. We're pining for another Reagan, but there will never be another like him. Krauthammer believes Mitt Romney, Tim Pawlenty and Bobby Jindahl (except for his terrible speech in February) are the future of the party. Newt Gingrich is brilliant, but has baggage. Sarah Palin is sincere and intelligent, but needs to really be seriously boning up on facts and info if she is to be a serious candidate in the future. We need to return to the party of lower taxes, smaller government, personal responsibility, strong national defense, and state's rights.
Not really much to comment on here, since it's a statement of subjective preferences. The only thing is that I would prefer to see 'fiscal responsibility' rather than 'lower taxes.' When the government has to increase spending, the only responsible thing to do is pay for it. And I'll skip commenting on the quality of those particular people (except 'death panel', 'global warming isn't real' Palin - I still can't believe she was a candidate for VP).
9. The current level of spending is irresponsible and outrageous. We are spending trillions that we don't have. This could lead to hyper-inflation, depression or worse. No country has ever spent themselves into prosperity. The media is giving Obama, Reid and Pelosi a pass because they love their agenda. But eventually the bill will come due and people will realize the huge bail outs didn't work, nor will the stimulus package.

These were trillion-dollar payoffs to Obama's allies, unions and the Congress to placate the left, so he can get support for #4 above.
I know this e-mail is about Obama, but how can Republicans claim the high ground on fiscal responsibility? With Reagan and Bush senior, the national deficit increased. We had a brief respite and a budget surplus under Clinton. Then, after 6 years of Republican controlled House, Senate, and executive, we had huge deficits. Yes, we were fighting a war under Bush Jr., but how can you justify lowering taxes when you know there's going to be increased spending?
http://crooksandliars.com/jon-perr/obamas-summit-and-myth-republican-fiscal
As far as the recession, the current consensus among economists is that it seems to be getting better. I realize people will argue over the cause until the cows come home, but I think a fair case can be made for the government's intervention actually helping. At any rate, if the consensus is correct, it certainly puts to rest the claims that the current policies are only going to make matters worse.
http://blogs.reuters.com/macroscope/2009/08/10/us-recessions-ending-now-what/
10. The election was over in mid-September when Lehman brothers failed, fear and panic swept in, we had an unpopular President, and the war was grinding on indefinitely without a clear outcome. The people are in pain, and the mantra of change caused people to act emotionally. Any Dem would have won this election; it was surprising it was as close as it was.
I agree that the war and the economic crisis pretty much did guarantee that the Democrats would win the presidential election. But this author's surpised it was so close? Obama had the largest percentage of the popular vote in decades - the largest by the non-incumbent party since FDR.
http://en.wikipedia.org/wiki/List_of_United_States_presidential_elections_by_popular_vote_margin
11. In 2012, if the unemployment rate is over 10%, Republicans will be swept back into power. If it's under 8%, the Dems continue to roll. If it's between 8-10%, it will be a dogfight. It will all be about the economy. I hope this gets you really thinking about what's happening in Washington and Congress. There is a left-wing revolution going on, according to Krauthammer, and he encourages us to keep the faith and join the loyal resistance. The work will be hard, but we're right on most issues and can reclaim our country, before it's far too late.
Well, we'll just have to wait and see what happens in 3 years.

Anyway, I apologize for the recent glut of politcal entries, but I have to confess that I have a few more in the works right now. I probably wouldn't write so many, though, if politics wasn't so full of people claiming things that weren't true. Hopefully I can get this all out of my system and get back to writing about less controversial topics, like evolution and religion.