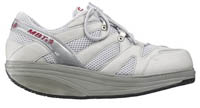 I was at the drug store the other day waiting on a prescription, when I noticed people trying on some funny shapped shoes that had curved soles. So, I walked over to the display and took a closer look. They were called MBT shoes, which stands for Masai Barefoot Technology, and are made by the company, Swiss Masai. They had hand-out brochures, so I took one to read while I was waiting. (Note that I will refer to the company as both MBT and Swiss Masai in this essay, as it appears that the company does the same on their website.)
For some of the research for this entry, I used MBT's website. It's an annoying, flash laden site that doesn't let you just sit and read about the technology, without having some java script decide you've spent enough time on that section and then brings up something else. Also, I couldn't find some of the statements on the website that first caught my eye on that brochure - so if you go to visit the site looking for them, you may not find them, either.
Anyway, there are a couple issues I want to discuss in this entry - briefly, whether or not these shoes have anything to do with "barefoot technology," and then in more depth, whether or not these shoes might actually have some therepeutic value.
I realize now as I'm getting ready to post this entry, that it's grown longer than I'd originally anticipated, so I'll get right to the point up front, before addressing the details. MBT shoes do show promise for treating certain conditions. However, there is anecdotal evidence that they can cause significant negative side effects. Additionally, there are not enough clinical studies addressing their efficacy or possible side effects.
Continue reading "A Skeptical Look at Masai Barefoot Technology Shoes" »