The NSF has just released their latest Science and Engineering Indicators report for 2014. It's a great report on the state of science and engineering in this country. For the past several reports (2004, 2006, 2008, 2010, & 2012), I've made a habit of posting an entry looking at one particular aspect - public understanding of science, as determined by how many people can correctly answer basic science questions. To that end, I am going to reproduce two sets of data from the report - a history of how Americans have fared on those questions over the years, and a comparison of the U.S. to other countries.
Here's the first set of data. The numbers in the table list the percentage of Americans that answered the questions correctly. The questions included in this year's report for this table are slightly different than in years past, but very similar. (This data came from Appendix Table 7-9.)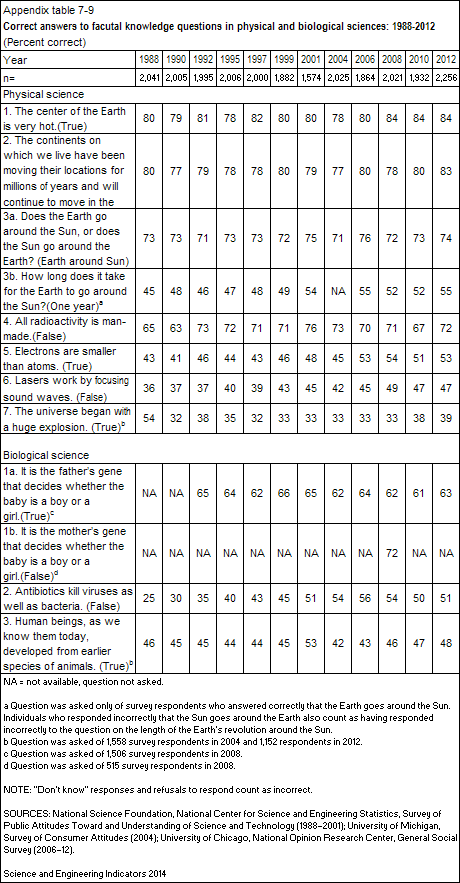 To make it easier to visualize the trends, here is that data plotted by year.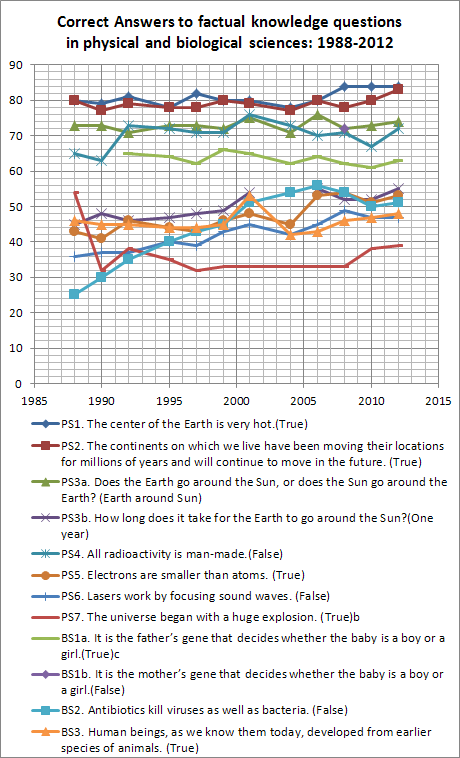 This is not much of a surprise. Given how steady most of these numbers have been since the NSF started doing this report, I didn't expect the numbers to change much this time around. And they haven't. The only question that's shown a big change over the years is understanding that antibiotics only work against bacteria, but that improvement appears to have leveled off. If I was in an optimistic mood, I might interpret the evolution, big bang, and plate tectonics questions (i.e. the ones contradicting young earth creationism) as showing a trend towards increasing correct answers. But the change would have to be bigger and last a few more years before I thought it was real and not just noise in the data.
The second set of data compares the U.S. to other countries/regions. The data for these other countries is a bit older than for the U.S., but still relatively recent. A couple countries have been updated since the last NSF report - China (2010 vs. 2007) and Japan (2011 vs. 2001). Both countries show slight improvements over the older data. (This table comes from Chapter 7 of the report, about halfway through on page 7-23.)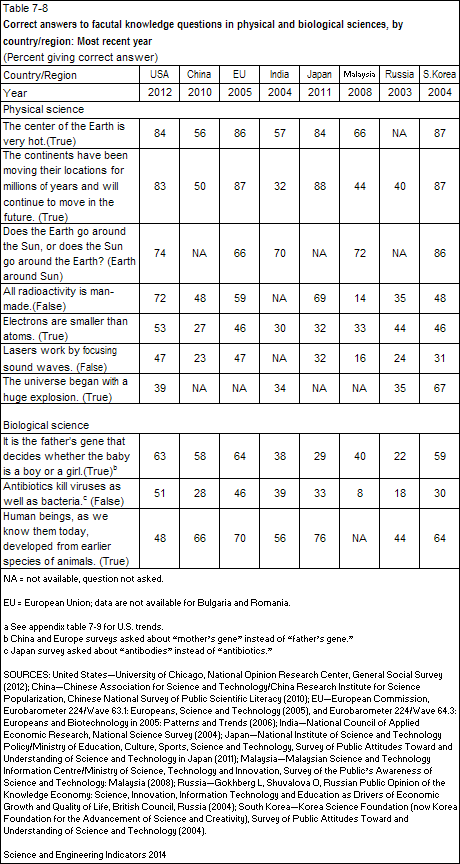 I couldn't find a good, compact way to graph all of that information. If you really want to see it, here is a link to bar graphs for every question.
Bar Graphs of Correct answers to factual knowledge questions in physical and biological sciences, by country/region: Most recent year
But, I figured a decent comparison would be to plot up averages. The graphs below are almost back of the envelope averages, just taking an average for each country, but ignoring the fact that not every country answered every question, so there will be some skewing because of that. I also re-ordered the countries/regions from the table in the NSF report, putting them in order of highest to lowest overall average. Note that some countries tied, such as the U.S. & South Korea, and China & India.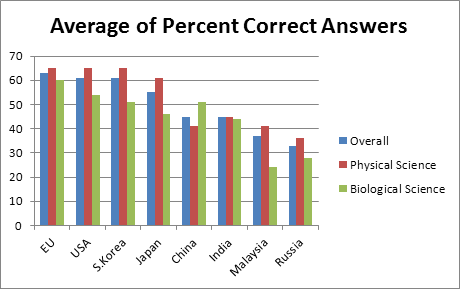 The U.S. fares pretty well compared to other countries/regions. Only the EU did better overall, and that was only a slight difference - not enough to worry about given my simplistic approach and the noise in the data.
I thought it would be interesting to do the same graph as above, but ignoring questions that were in contradiction to young earth creationism (evolution, big bang, and plate tectonics). Here's that version.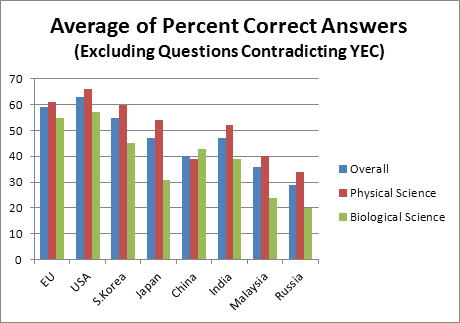 Looking at it that way, the U.S. does a little better - enough that it leads the other countries/regions, but still not by enough of a difference to mean much given my simplistic approach. However, I think it does illustrate how young earth creationism hurts Americans acceptance of scientific findings.
Given the similarity of results this time around to years past, I'm simply going to quote my conclusion from years past since it's still relevant. "Just look at those results - around a quarter of Americans think that the Sun goes around the Earth, half don't realize that electrons are smaller than atoms, and half don't know that it takes a year for the Earth to go around the Sun! Keep that in mind whenever you hear people citing public opinion polls on the validity of concepts like global warming or evolution.
"It's always a bit depressing to see those numbers. It's hard to believe that the people of our nation are so ignorant. If there's one lesson to take away from these results, it's that we need to vastly improve our education system." I would add that this is the same lesson for other countries, as well, since they do about the same or worse.
Anyway, I recommend going to look at the NSF report, Science and Engineering Indicators 2014, and at least skimming through it. There's a lot more information there than just the little bit I focused on here.