Someone recently asked me to fact check an e-mail for them, so I've decided to post that response here. The e-mail was supposedly quoting Ian Plimer, a geologist and professor at the University of Melbourne, and a noted climate change denialist. For anyone interested, I've posted that e-mail in its entirety below the fold.
The lead-in to the body of the article was, "Where Does the Carbon Dioxide Really Come From?" After a bit of ranting about Priuses, CFL bulbs, and the like, it got to its main point - that volcanoes supposedly spew out far more carbon dioxide than any human contributions. It even made the claim:
...when the volcano Mt Pinatubo erupted in the Philippines in 1991, it spewed out more greenhouse gases into the atmosphere than the entire human race had emitted in all its years on earth.
Just a bit later, the e-mail claimed that the Earth has been cooling for the last century:
It's because the planet has COOLED by 0.7 degrees in the past century and these global warming bull artists got caught with their pants down.
So, in response to the person who asked me to fact check this e-mail, I responded in three parts, as detailed below.

Correct Attribution/Credentials?
On the first level of fact-checking, I didn't find the actual source of this quote from Plimer. All I could find were reprints of this e-mail. So, I'm not sure if he actually wrote it (and given the tone, I would hope not), but it does appear consistent with claims of his I've found elsewhere. As far as his background, that's simply copied-and-pasted from Wikipedia, so it's probably correct.

Volcanic Emissions vs. Human Emissions:
Plimer is way off base here. I found many, many different sites dealing with this. Here are two of the better ones:
That first link contains these two tables, so that you can compare annual volcanic CO2 emissions to human emissions. It also contained the emissions for a couple notable eruptions, Mt. St. Helens and Mt. Pinatubo. Annual human caused CO2 emissions are on the order of 134 times higher than total annual volcanic emissions (which includes submarine volcanos), and about 700 times higher than what was released by the one-time event of Mt. Pinatubo erupting.
Yearly CO2 emitters
Billion metric tons per year (Gt/y)
Global volcanic emissions (highest preferred estimate)
0.26
Anthropogenic CO2 in 2010 (projected)
35
Light-duty vehicles (cars/trucks)
3
Approximately 24 1000-megawatt coal-fired power stations *
0.22
Argentina
0.2
Pakistan
0.18
Saudi Arabia
0.44
CO2 emission events
Mount St. Helens, 18 May 1980
0.01 Gt
Mount Pinatubo, 15 June 1991
0.05 Gt
Number of Pinatubo-equivalent eruptions equal to annual anthropogenic CO2
700
Number of Mount St. Helens-equivalent eruptions equal to annual anthropogenic CO2
3500

Global Cooling?
I've seen similar claims of global cooling a few times before, but usually on shorter time scales. It almost always comes down to cherry-picking data. Here's an article dealing with a similar claim made by David Rose last year, and another article dealing with longer term trends.
Below is a good graph from the first article. It clearly shows a long term warming trend over the past several decades. But it's not a perfectly smooth line, and there are outliers both above and below the general trend. So, if you cherry-pick, as they show in the animation, and choose an appropriate (or rather, inappropriate) time period, you can say there's been cooling over that short term period, and then naively extrapolate that short term cooling to saying that it's a long term cooling trend. But when you look at the larger data set over several decades, it's clear which way the trend is going.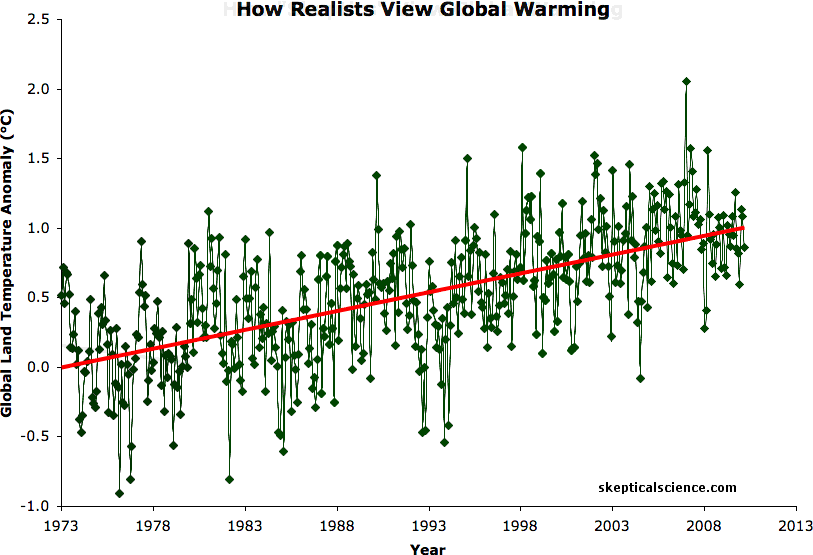 The second article dealt with longer term trends, addressing the e-mail's specific claim of cooling over the last century. Below is a graph from that article, showing the temperature anomaly for the past 11,000 years. I clearly shows that the rate of change right now is much higher than it's been than at any other point in that period, and a clear warming trend for the past century.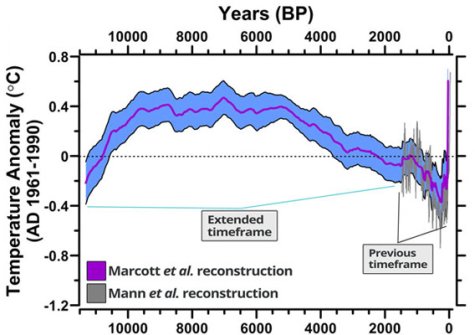 So, this e-mail contained nothing but the bogus claims I've come to expect from the climate change denialists. I really don't understand this mindset. Problems don't disappear just because you ignore them. Burying your head in the sand won't make global warming go away. We've already had to face some consequences of a changing climate, and rather quickly, we're going to have to start dealing with the more profound effects. Why not own up to it and start working on solutions now?
Continue reading "Response to Global Warming Denialist E-mail - Volcanoes and Global Cooling" »