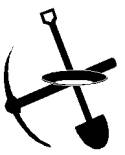 I know I've written about Ray Comfort several times before (here, here, and here), and for a blog with as little output as mine, that represents a good percentage of my entries, but I swear I don't purposely go looking for Comfort's antics. However, I recently read a comment on Pharyngula about Comfort, that seemed so outlandish, I had to verify it for myself. And sure enough, it was true. Here's the post in question, for anyone that ones to see the full entry (warning - the comments section will draw you in like a train wreck; you want to look away, but can't, because you want to see what's going to come up next). Anyway, here's the relevant excerpt, where Comfort's discussing his upcoming book, Evolution A Fairy Tale for Grownups:
I have never claimed to be an authority on the subject of evolution, but I have quoted authorities. Lots of them. The publication is filled with quotes from the mouths of evolution experts who admit that they have nothing. They have no empirical evidence for the theory.

No doubt you will accuse me of "quote mining" (for those who don't know what that is, it's the practice of taking a quote--often out of its context, and using it in a way that was never intended by the author). However, every gold nugget is legitimately mined out of its context. No one seriously values the earth that encases the gold. So, when I uncover an evolutionary expert quietly admitting that he has no evidence to back up his theory, I don't see any value in the soil of his surrounding words. I merely extract what I believe is of value for those who want to discover the truth about the theory of evolution.
I'm guessing that most of my family, friends and possibly a few other visitors that read this blog, probably don't follow the creationism/science "debate" as much as I do, and so may not have seen many examples of quote mining. Since Comfort's book hasn't even been released, yet, I obviously haven't had a chance to read the quotes he's talking about (and in all honesty, I doubt I'll ever read his book at all, given what I've seen of his previous output), but I've been following this debate for long enough now to have an idea of the way creationists distort people's original meanings when they quote them.
A very common example is to quote a particular sentence by Charles Darwin from On the Origin of Species (ex: Kent Hovind and Answers in Genesis - which also quote mines Gould):
To suppose that the eye with all its inimitable contrivances for adjusting the focus to different distances, for admitting different amounts of light, and for the correction of spherical and chromatic aberration, could have been formed by natural selection, seems, I freely confess, absurd in the highest degree.
Taken on its own, quoted out of context, this quote seems to indicate that Darwin doubted that natural selection could have produced the eye. However, if you go on to read the rest of the paragraph, it tells a different story.
...absurd in the highest degree. When it was first said that the sun stood still and the world turned round, the common sense of mankind declared the doctrine false; but the old saying of Vox populi, vox Dei, as every philosopher knows, cannot be trusted in science. Reason tells me, that if numerous gradations from a simple and imperfect eye to one complex and perfect can be shown to exist, each grade being useful to its possessor, as is certainly the case; if further, the eye ever varies and the variations be inherited, as is likewise certainly the case and if such variations should be useful to any animal under changing conditions of life, then the difficulty of believing that a perfect and complex eye could be formed by natural selection, though insuperable by our imagination, should not be considered as subversive of the theory. How a nerve comes to be sensitive to light, hardly concerns us more than how life itself originated; but I may remark that, as some of the lowest organisms, in which nerves cannot be detected, are capable of perceiving light, it does not seem impossible that certain sensitive elements in their sarcode should become aggregated and developed into nerves, endowed with this special sensibility.
And then, just to be thorough, Darwin followed up with a few pages detailing a hypothetical scenario in which the eye could have evolved, and listing organisms with eyes of differing complexity. (And for those interested, here's a great diagram showing various types of eyes in extant gastropods, from simple light sensitive patches, to full on eyes with lenses. Obviously, since gastropods are in a distinct lineage from ours, that isn't the exact path vertebrate eye evolution followed, but it does show very clearly how complex eyes could have evolved gradually, and answers a common creationist question - what use is half an eye.)
Okay, I realize that example was a bit long, but it shows how quoting out of context can completely misrepresent what a person originally intended. And don't forget that people aren't perfect. Maybe when explaining something, a person chose wording that wasn't as clear as it could have been, perhaps they were guilty of a bit of hyperbole, it's possible they were using a rhetorical device or being sarcastic, or maybe even they just flat out made a mistake. To ignore a person's overall position or argument, and focus solely on cherry-picked statements that seem to contradict that overall position is extremely dishonest.
I tend to give most people the benefit of the doubt. I think most people are sincere in their beliefs, and just trying to live their lives in the best way possible. However, people like Ray Comfort make me start to question that assumption.
Let's just take evolution, as an example. I realize that around half the people in this country are creationists, but I think that the main problem is simply lack of good science education (as evidenced by reports such as the NSF's Science and Engineering Indicators, which indicate that around a quarter of the people in this country don't even know that the Earth orbits the Sun). But Ray Comfort falls into a different category. He's not just Joe Schmoe who's never been exposed to any of the evidence - he's the head of an international ministry. In his prominent position, and with the way he's publicly expressed his doubt of evolution, surely people must have tried to show him some of the evidence in its favor. Actually, just look at some of the comments on his entry that got me started on this whole thing - plenty of people have recommended good books as introductions to evolution, and several comments listed some of the evidence right there. To have so many people show you evidence in favor of evolution, and to still doubt it, well, Comfort can't innocently claim ignorance like so much of the rest of the population.
There's also the subject I blogged about at the beginning of the year - the fake Golden Compass Collectible inserts that his ministry produced (along with a cybersquatting website, goldenconnpass.com). Not only is that a very misleading way to try to spread your message, but as I pointed out at the end of that entry, his ministry offered a bulk discount for buying those inserts. Just think about that. Bulk discounts are usually for profit minded companies, as a way to entice their customers to buy more of their product. I would have thought that a good Christian organization would have been selling its evangelical materials at a rate that covered production costs, and no more. Surely, he's not trying to turn a profit off his congregation.
It seems like so much I hear that comes from Ray Comfort is either extremely ignorant, ill-informed, or dishonest. Even if I still give him the benefit of the doubt and assume that he's good intentioned, I still can't understand how some people continue to trust what he has to say.
Update 2008-29-29: Slight changes made since originally posted, but nothing that significantly changes the meaning.