I like whiskey. I don't drink it nearly as often as beer or wine, but I enjoy it when I do. And I've been slowly accumulating a small collection of different types of whiskey - 9 bottles as of right now*. These range from Evan Williams Kentucky Bourbon at the low end, to 15 year old The Macallan Single Highland Malt Scotch Whisky at the top end (price-wise, not necessarily taste-wise, as you're about to read - and yes, it's The Macallan).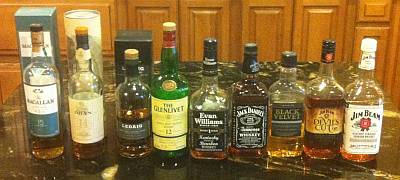 With my daughter and I being the nerds we are, we decided to do a blind taste test to see how they all compared. Just how good were the more expensive whiskeys? Were they worth the price and reputation? Granted, these are different varieties of whiskey, so it's not really a straight comparison, but it's still interesting (plus a good excuse to sip on some whiskey).
We weren't super scientific in our methodology, but we tried to be fair. My daughter put a little bit of each whiskey into a shot glass while I was in the other room, writing down which whiskey was in each glass, and then I came back in and tasted them all and ranked them. It was only a little per glass and only taking sips, or else by the end of 9 full shots in a few minutes, I wouldn't have cared about rankings. We repeated the same routine a few nights later for comparison.
It's pretty obvious that all the different whiskeys have their own unique flavors, but it's hard to actually rank them in order of preference (maybe I just have an underdeveloped whiskey palate). There were basically three standouts that were my favorites, one that was a standout in the other direction that I didn't particularly like, and then the rest that were all good but that I had a hard time favoring any over the others.
My top three were Ledaig, Oban, and Evan Williams, in that order. The one I didn't like much at all was Jim Beam. And then in the middle were all the others. And even though my preferences weren't huge, I did my best to rank them in order - 12 year old Glenlivet, The Macallan, Black Velvet, Jack Daniel's Old No. 7, and Jim Beam Devil's Cut. Keep in mind that The Macallan was the most expensive bottle I had, and it ended up in that middle group. And the funny thing is, up till that point I'd been touting The Macallan as so much smoother than the normal whiskeys, and the Evan Williams as rubbing alcohol. It's amazing how much of an influence labels and expectations can have on our perceptions. Though somewhat in my defense, I'd said all along that the Oban and Ledaig were my favorites, so my non-blind perceptions weren't completely off base. But Ledaig and Oban both also have very distinct peaty flavors, so I wonder if they'd still be my favorites if I found cheaper peaty whiskeys.
...
Originally, this entry was going to stop with the above paragraph, but like I said, I'm a nerd. I couldn't just leave it at that, so I decided to plot up these results and see if there were any noticeable trends. So, here are three different graphs. First is each whiskey with the price per bottle, in the order that I ranked them. The three groups are distinguished by color.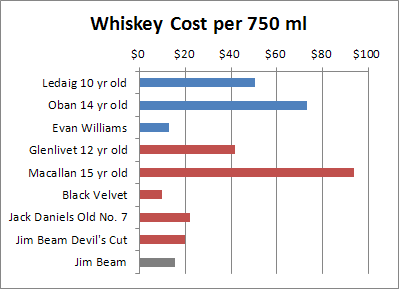 Whiskey prices per 750 ml bottle, based on Spec's Texas Superstore - Red: My favorites, Blue: Still taste really good, but hard to rank compared to each other, Grey: Not so good
Next, I did a very simple plot of price vs. rank, and had Excel draw in a trend line.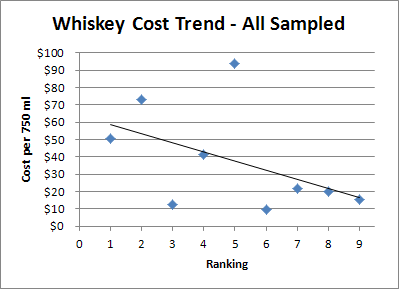 Third, I broke it down by groupd described above, averaged the price per group, and had Excel draw a trend line for that. Group 1 were my 3 favorites. Group 2 included the whiskeys that I liked but didn't have too strong of a preference of any over the others, and Group 3 was really only one whiskey, not a group, the Jim Beam that I didn't particularly like.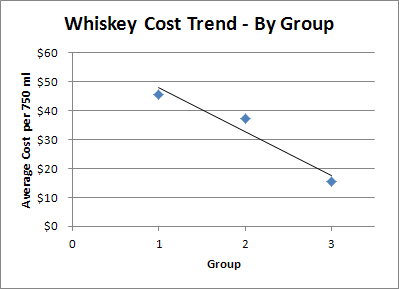 So, there does appear to be a trend where I do like more expensive whiskey better than less expensive whiskey on average, but there's a lot of scatter in that plot. In fact, my third favorite whiskey, in my standout group (Group 1), was the second cheapest. Those rankings are also very subjective. I wouldn't be surprised if I did this test on another day and came out with slightly different results. Plus, it's not like a sample size of 9 is particularly big.
Like I said, I like whiskey, but I don't drink it a lot, so take these results for what they are. Still, I found it interesting that even if there was some correlation between cost and my personal preferences, how much variation there was around that trend.
---
*I always say that it's not people with large alcohol collections that you have to worry about, but rather the ones who drink it too fast to build up a collection.