Email Debunking - Government Mandated CFL Bulbs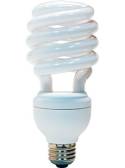 Another chain mail found its way into my inbox. It links to a video of Texas Representative Ted Poe, speaking on the House floor about the evils of our intrusive government forcing us to use light bulbs containing toxic mercury. You'll have to watch the video below to hear all of the claims, but rest assured, they're almost entirely false. I know, I know. It's a shock that a Republican Congressman would lie in front of the House, but that seems to be the case here.
Here's the e-mail I received. I didn't completely match the formatting from the e-mail, but I at least tried to give a flavor for the way it looked.
IF YOU DON'T DO ANYTHING ELSE TODAY TAKE TIME TO LOOK AT THIS !!!! STUPIDITY, STUPIDITY, STUPIDITY. AND WE''RE ALLOWING OURSELVES TO TOLERATE THIS NONSENSE.

---

MORE political "LUNACY" of "Selected Officials" knowing better!!
Take a look at this video for some incite into the use of our new "Required" light bulbs.
This short talk is by a Texas representative in congress who is a bit upset with the new regulations regarding said light bulbs. If it doesn't make you laugh you will surely cry.

FOLKS-WE IS FIXING TO OUTDUMB OURSELVES!
Here's the text and video from the page that link takes you to.
Once Again, a Government 'Improvement' Makes Things Exponentially Worse

Here's an excellent summation by a Congressman from Texas of all the wonderful things we have to look forward to once we are forced by the Federal government to use only the new environmentally-"friendly" CFL light bulbs by 2014.

[Video moved to after blockquote]
Poe's whole rant was based on a false premise. The legislation passed by the federal government was for efficiency standards, not specific technology:
http://en.wikipedia.org/wiki/Phase-out_of_incandescent_light_bulbs#United_States
So, if you don't want to use a mercury containing CFL bulb, you could use an LED or ESL bulb. Plus, there are new incandescent bulbs coming onto the market that meet the new efficiency standards:
http://www.nytimes.com/2009/07/06/business/energy-environment/06bulbs.html
http://green.blogs.nytimes.com/2009/05/29/can-incandescent-bulbs-be-made-efficient/
He also misrepresented the EPA by calling those instructions 'law' instead of merely recommendations:
http://epa.gov/cfl/cflcleanup-detailed.html
There's also a U.S. company that manufactures CFLs:
http://www.usstuff.com/lightinc.htm
I think that covers most of his points. It reminds me of the title of Al Franken's book (which I haven't read), Lies and the Lying Liars Who Tell Them.
When I responded to the person who originally sent me the e-mail, he was appalled that a representative would so blatantly say untrue things in front of Congress. We've voted our representatives into positions of trust running our government. They should be capable and honorable. Poe was either so incompetent that he actually didn't understand the law, or he was dishonest and was simply lying to pander to his constituency. I wish I could say that I was appalled by his actions, too, but I guess I've become jaded by politics.