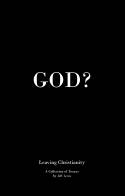 I've published a book (sort of). It's the collection of essays from my Religious Essays section. The book is available through the print on demand company, Lulu, for the low, low price of $4.99 Here's the link to buy it:
Leaving Christianity: A Collection of Essays by Jeff Lewis.
The essays are still available for free on this site, but I figured some people (okay, just me) might want a nice, professionally printed and bound copy of the essays.
I say that I only 'sort of' published the book, because it's super easy to publish on Lulu. You don't have to convince anybody that your book's good enough. You just upload it, hit the publish button, and anybody can buy it. It's the modern version of a vanity press, but without having to pay for a print run.
I've only looked over 1 review copy, and haven't actually ordered this latest version, yet. I think it should be okay, though. The review copy I got looked pretty good already, and I only made minor changes. So, if you order the book, I think you'll be safe.
---
Added 2011-01-12 I finally got the review copy that incorporated my revisions. It looks good. The changes did help with the layout and made the book easier to read. So, you're definitely safe if you order the book now.