Lunar Eclipse on the 2010 Winter Solstice

Last night, there was a total lunar eclipse visible to all of us in North America. It happened to fall right on the winter solstice, which is a pretty rare event. In the past 2000 years, it had only happend once, in 1638, prior to last night. It won't happen again until 2094.
Circumstances were just right for my family and me to watch it. Every year since we've moved into our new house, I've decorated the big tree out front for Christmas. It takes a while, and depending on how busy I am with work and other things, I don't always get it done as early as I'd like. So, I'd already set myself last night as the deadline to get the tree done before Christmas. Which meant - I was already going to be outside for much of the night, giving me the perfect opportunity to occasionally glance up at the moon to see when the eclipse started and how it was progressing. My wife helped out some with the tree, put up a few lights of her own, and ran out to Wal-Mart to buy a few more lights for me, so she was up, too. And since Christmas break had already started for my daughter, she was already going to be staying up late watching T.V., so she could pop out from time to time to check on the eclipse.
Once the eclipse got started, my daughter brought out the telescope so she could track the eclipse with that (I didn't break out the Celestron NexImage camera because I was so busy with the lights). My wife brought out her camera and tripod, and snapped a few pictures. She'd never tried taking pictures of the moon before, so she had to experiment with the settings a bit. Below is a composite of some of the pictures she took (you can see how they got better towards the end as she zeroed in on the right settings).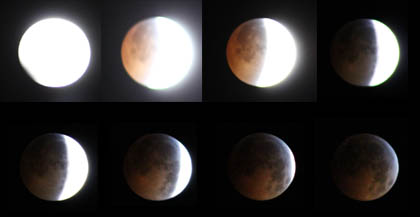 I couldn't decide on what resolution to provide to readers, so I gave you several choices if you want to see that image bigger:
I called my parents to let them know about the eclipse. They watched part of it, but then it got blocked by clouds. So, I guess we were lucky to have a clear night down here in Texas. I should also note the weather. We had a warm front come through, and I was doing my work wearing shorts and a t-shirt - not bad observing conditions for late December.
All in all, it was a good time, and a nice little distraction after a long night of hanging Christmas lights.