Wright Brothers Day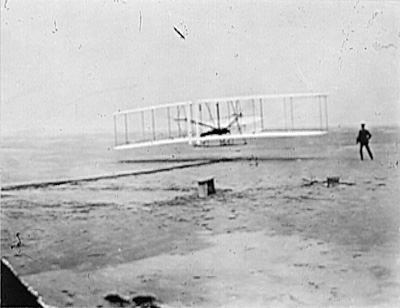 104 years ago today, the Wright brothers became the first humans to truly fulfill the dream of flight. Yes, the Montgolfier brothers had their hot air balloon, and others like Hiram Maxim may have gotten an airplane to momentarily lift off under its own power, and Otto Lilienthal had been experimenting with his weight shift gliders decades previously, but it was the Wright Brothers who were the first to really integrate the structures, aerodynamics, and control into the first successful airplane.
Flying has become so common place today that we take it for granted. People complain about the cramped seats, the long lines to get through security, the bad food (if you even get any) on flights. But just remember how long people have dreamt of flight, for how long people looked to the skies wanting to emulate the birds. Flying used to be the stuff of myth and legends, reserved for the gods. Now, we can all get in an airplane, and soar above the clouds. It really is something special.
Happy Wright Brothers Day.