Flooding
Well, I mentioned in a post a little while ago that I was moving. Now, thanks to all the rain we've been getting, this is what my back yard looks like just two weeks after we moved in. The water's about 4 or 5 feet up the trunk of that tree.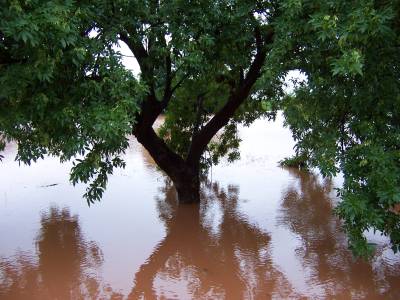 Don't worry too much about me and my family, though. Our backyard has a pretty good slope to it, and that tree's right at the back edge. The water still had a good 5 feet to go before it got to our house. But other people weren't so lucky. Here's the street a few blocks from our house.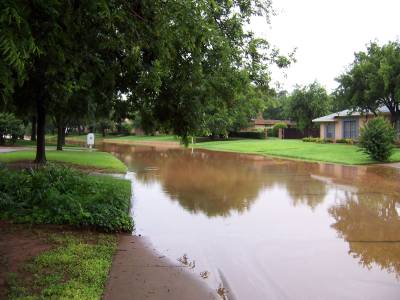 And that picture was taken before the water had crested. It got another foot or so higher. Other neighborhoods got hit even worse. Houses in the Wranglers Retreat neighborhood were underwater up to their roofs, and several houses in the downtown area had several inches to several feet of water. There are a few pictures on the City of Wichita Falls website, some more good pictures in some articles written by the local paper, the Times Record News: Rising water forces residents to retreat and Flooding overtakes East Side, forcing evacuations, and many more on a slideshow put together by the paper, but the slideshow isn't as good as the other photos.
So, it looks like this was the highest flood ever recorded for Wichita Falls, the river reaching at least 24.31 ft (the highest reported depth I could find, and probably pretty close to as deep as it got.) That's about 3 3/4" deeper than the previous record of 24 ft set way back in 1941. At least the river's been going down since Saturday. As long as we don't get too much more heavy rain, it looks like this is going to clear up. Hopefully the other parts of the country that got hit harder will start to recover, too.