5 Degrees to Kevin Bacon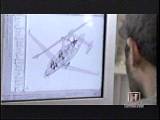 Last week, I had my 9 seconds of fame. Carter Aviation Technologies was featured in a segment of Modern Marvels on the History Channel, and they actually used some of the footage they shot that had me in it. Between one scene talking to my boss, and another looking past the back of my head to see what was on my computer screen, I was on screen for about 9 seconds all together.
So, now that I've been on TV, and my boss has been in several documentaries, I can count my degrees to Kevin Bacon (technically, I was very briefly in another documentary a few years ago, but it was so brief you had to pause the video to make me out). Anyway, here goes:
Jeff Lewis -> Jay Carter, Modern Marvels
Jay Carter -> Bob Simon, 60 Minutes
Bob Simon -> Larry King, Larry King Live
Larry King -> David Hayman, The Jackal
David Hayman -> Kevin Bacon, Where the Truth Lies
So, I've got a Bacon number of 5. (Yeah, I realize documentaries and news aren't exactly the kosher way to do it, but that's the only way I can.)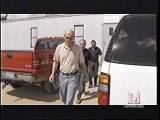 Added 2007-10-01: Well, I was in a hurry when I wrote this entry originally, and there are two things I'd like to add. First, I wasn't the only one to get some screen time. A few other co-workers who aren't normally in documentaries also got their chance to call up relatives about being on TV. (That shot where they're all walking out of the trailer took 3 takes to get it just right.)
I also wanted to add that we all thought the documentary was very good. Carter Aviation Technologies has been in other documentaries before. Sometimes it's such a short mention that it's hardly worth it, and sometimes the documentary makers just get things wrong. But Modern Marvels did a very good job of explaining our concept.