Global Warming - It's Real, And We're Causing It

I was with a group of people yesterday, and one of them brought up the recent news of the U.S. listing polar bears as a threatened species under the Endangered Species Act, due to their expected decline as global warming melts the arctic sea ice they depend upon for survival. And of course, this got the conversation going on global warming. Out of the six of us, one guy thought that scientists just didn't know what the hell was going on with the climate, that there wasn't any real consensus on global warming at all, and that even if global warming were real, which he doubted, polar bears would find a way to survive, anyway. Another guy seemed more open to the idea that global warming could be happening, and could be human caused, but wasn't entirely convinced. I tried my best to defend the science, while the other three people stayed pretty quiet on the subject (although from a previous conversation, I think that one of them at least accepts that global warming is happening). Later on, when I told another guy about this conversation, he seemed to think that the current global warming might just be a natual cycle, and that it's not human caused. So, out of 7 people, I was the only one to strongly accept that current global warming is human caused.
Now, I'll admit I'm no expert on global climate. Not only am I not involved with the field at all, but I haven't really studied it in depth on a lay level, either, like I have other fields such as evolution. So, I guess I need to ask myself, how can I go on accepting that humans are causing global warming, and that it is a major problem?
First, I'll defer to the experts. I realize this isn't exactly a sound logical approach - after all, evidence is evidence no matter who discovers it. But, in the same way that I'll take my doctor's advice on what effects different medicines and procedures have, I'll put a fair amount of weight on the statements of the people who devote their careers to studying climate.
First, let's take a look at the UN's Intergovernmental Panel on Climate Change (IPCC). Their 2007 report has a Summary for Policy Makers (pdf), detailing their key findings, which contains statements such as these:
Warming of the climate system is unequivocal, as is now evident from observations of increases in global average air and ocean temperatures, widespread melting of snow and ice and rising global average sea level.
Global GHG [greenhouse gas] emissions due to human activities have grown since pre-industrial times, with an increase of 70% between 1970 and 2004.
Global atmospheric concentrations of CO2, methane (CH4) and nitrous oxide (N2O) have increased markedly as a result of human activities since 1750 and now far exceed pre-industrial values determined from ice cores spanning many thousands of years.
Most of the observed increase in global average temperatures since the mid-20th century is very likely due to the observed increase in anthropogenic GHG concentrations. 7 It is likely that there has been significant anthropogenic warming over the past 50 years averaged over each continent (except Antarctica).
So, here's a group composed of hundreds of scientists from dozens of countries, working on a report that needed to be approved by all of them. Even without having a great understanding of the science, I'd put a fair amount of trust in a report prepared that way. But, say you don't like foreigners, and you want some stuff done here in the good old U.S. of A. How about NASA's Goddard Institute for Space Studies? The day I checked their site, their lead story was Earth Impacts Linked to Climate Change, with the summary:
A new study shows that human-caused climate change has impacted a wide range of natural systems, from Arctic permafrost thawing to African lakes declining in productivity.
They take human-caused climate change as such a given that they're simply moving on to addressing its effects.
How about the Environmental Protection Agency? Well, they have a whole site devoted to Climate Change, but let's take a look at their frequently asked questions, specifically this question, Are human activities responsible for the warming climate?. Here's their response:
Careful measurements have confirmed that greenhouse gas emissions are increasing and that human activities (principally, the burning of fossil fuels and changes in land use) are the primary cause. Human activities have caused the atmospheric concentrations of carbon dioxide and methane to be higher today than at any point during the last 650,000 years. Scientists agree it is very likely that most of the global average warming since the mid-20th century is due to human-induced increases in greenhouse gases, rather than to natural causes.
The National Oceanic and Atmospheric Administration has a section on this, too. Here're some of the things they have to say:
Human activity has been increasing the concentration of greenhouse gases in the atmosphere (mostly carbon dioxide from combustion of coal, oil, and gas; plus a few other trace gases). There is no scientific debate on this point.
Global surface temperatures have increased about 0.74°C (plus or minus 0.18°C) since the late-19th century, and the linear trend for the past 50 years of 0.13°C (plus or minus 0.03°C) per decade is nearly twice that for the past 100 years. The warming has not been globally uniform. Some areas (including parts of the southeastern U.S. and parts of the North Atlantic) have, in fact, cooled slightly over the last century. The recent warmth has been greatest over North America and Eurasia between 40 and 70°N. Lastly, seven of the eight warmest years on record have occurred since 2001 and the 10 warmest years have all occurred since 1995.
There's also a "Joint science academies' statement: Global response to climate change" which was signed and endorsed by the Academia Brasiliera de Ciências, the Royal Society of Canada, the Chinese Academy of Sciences, the Academié des Sciences of France, the Deutsche Akademie der Naturforscher of Leopoldina, Germany, the Indian National Science Academy, the Accademia dei Lincei of Italy, the Science Council of Japan, the Russian Academy of Sciences, the Royal Society of the United Kingdom, and the National Academy of Sciences of the United States of America. Some of the wording in that statment includes:
There will always be uncertainty in understanding a system as complex as the world's climate. However there is now strong evidence that significant global warming is occurring1.
The existence of greenhouse gases in the atmosphere is vital to life on Earth – in their absence average temperatures would be about 30 centigrade degrees lower than they are today. But human activities are now causing atmospheric concentrations of greenhouse gases – including carbon dioxide, methane, tropospheric ozone, and nitrous oxide – to rise well above pre-industrial levels. Carbon dioxide levels have increased from 280 ppm in 1750 to over 375 ppm today – higher than any previous levels that can be reliably measured (i.e. in the last 420,000 years). Increasing greenhouse gases are causing temperatures to rise; the Earth's surface warmed by approximately 0.6 centigrade degrees over the twentieth century.
1 This statement concentrates on climate change associated with global warming. We use the UNFCCC definition of climate change, which is 'a change of climate which is attributed directly or indirectly to human activity that alters the composition of the global atmosphere and which is in addition to natural climate variability observed over comparable time periods'.
So, if we're to trust the experts, there is an overwhelming consensus that global warming is real, and that us humans are the ones causing it.
But, reality isn't based on a vote, so let's take a look at at least a little of the data to back up these claims. I found a site that puts the data into nice, easy to see graphics, Global Warming Art. Here's a graph of carbon dioxide concentrations over the past several thousand years: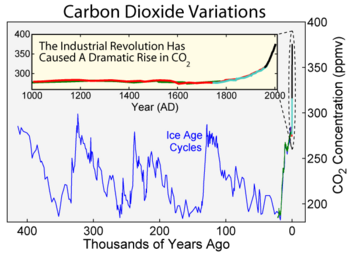 Image from Global Warming Art.
Here's a graph of reconstructed temperature, which seems to show a pretty good correlation to those carbon dioxide levels (note that it goes back just a little farther into the past than the above graph).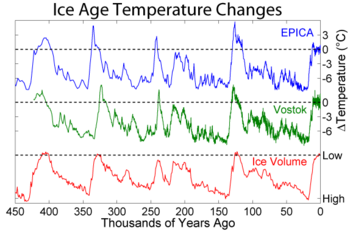 Image from Global Warming Art.
And just to show that the scientists really do have a pretty good understanding of what's going on, here's a graph showing model predictions compared to actual measured global temperature: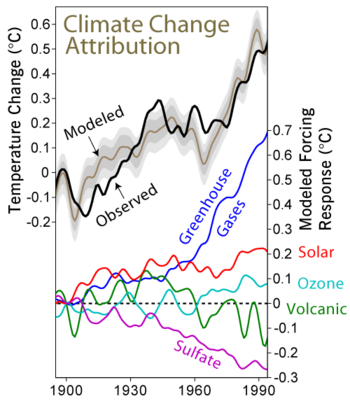 Image from Global Warming Art.
So, as stated above, there seems to be a huge consensus among the people actually studying the issue that global warming is real, and that us humans are the ones causing it. The data available certainly seems consistent with what they're saying. So, I really don't understand how people could doubt global warming, unless they're just not willing to look into it.
For those wanting to research this more (as I certainly plan to), the Global Warming Art page looked pretty good. Also, RealClimate looks to be a pretty good resource, especially their page, Start here. They even have a section of links to sites dealing with correcting misconceptions raised by "contrarian talking points." A couple of the ones I've already looked at are How to talk to Global Warming Skeptic and Anti-global heating claims - a reasonably thorough debunking. And finally, just follow the literature. I read the Nature News site every day during my lunch break. Nature's a very reputable journal (note - the News site isn't publishing peer reviewed research like the journal, itself, but it must still uphold the same reputation), and in the past 5 years or so since I've been following that site, with all the articles on global warming that they've published, I haven't seen a single one that called into question global warming or that we're the cause of it.
All images in this entry came from Global Warming Art.