Darwin Year Events in Dallas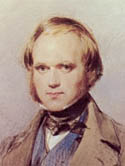 I wrote an e-mail to the Dallas Museum of Nature & Science asking them about Darwin Year events. Since the events don't seem to be advertised very prominently on the museum's site, I'll post their response here:
Hi Jeff. We are going to host two events. Cocktails with Charles on his actual birthday 2/12 and cupcakes with Charles on Saturday 2/14. The Thursday event is for adults only and the Saturday event is for families.
I don't think I'll make the two hour drive to to Dallas just for cocktails or cupcakes, but if I just happen to be visiting my wife's family that weekend...