Happy Darwin Year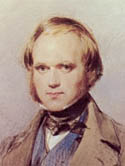 Since 2009 marks the bicentennial of Charles Darwin's birth, as well as the 150th anniversary (sesquicentennial) of the publication of On the Origin of Species, many groups have decided that 2009 should be Darwin Year. So, to kick off the year, here are a couple links to good sites dealing with Darwin.
To give a short taste of the Nature site, they've made freely available, and even encouraged dissemination of (so sharing it here is perfectly legal), an article on 15 Evolutionary Gems, collecting information from articles published in the journal "over the past decade or so to illustrate the breadth, depth and power of evolutionary thinking."
Don't forget to check with your own local museums. Even if they don't have any special events scheduled for Darwin Year, they're always fun to visit, anyway.
Added 2009-01-02 Well, I figure that for the kick off to Darwin Year I might as well post links to the previous posts I've made on evolution or Darwin. If I happen to post anything else on the subject during this year, I'll try to remember to update this list.