Bees
I had an interesting experience at work last Friday. Some time in the early afternoon, we started noticing some bees around the entrance to a trailer. We hadn't seen any yet this summer, so I poked around to see where they were coming from. I saw a few going in and out of a hole in the liner under the floor, so I ran home to get some wasp poison, and sprayed around the hole. As the afternoon wore on, more and more bees kept showing up. I kept spraying for a while, but eventually gave up. By the time I left to go home, here's what it looked like (I gave two different resolution options to view these bigger):

800x600 (92.4 kB)
2816x2112 (504 kB)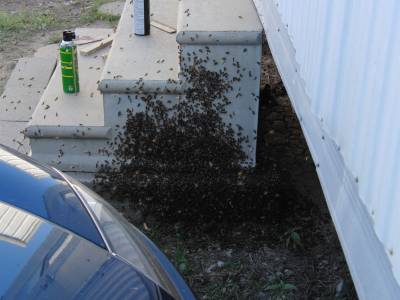 800x600 (104 kB)
2816x2112 (514 kB)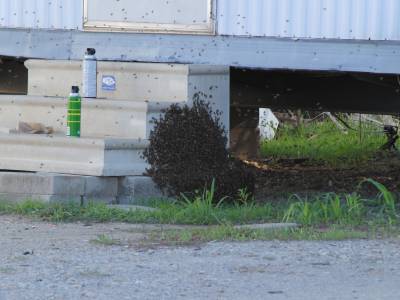 800x600 (104 kB)
2816x2112 (491 kB)
And here are a couple videos of it that I uploaded to YouTube. The first one's a bit long, but you don't have to watch the whole thing. At the end of the second one, I got scared when I felt something land on my arm, but I didn't get stung.
By Sunday, the bees were no longer on the step, but had taken up residence under the trailer. We had to call in a bee keeper to get rid of them. He came in after dark on Sunday (so that the bees would be in the hive) and worked until midnight. He said that there must have been at least 20,000 bees. He didn't think they'd been there very long, that they'd probably just arrived.
That is, by far, the most bees I've ever seen in my life.