Fire a Little Too Close for Comfort
This was the view from my front yard yesterday afternoon*: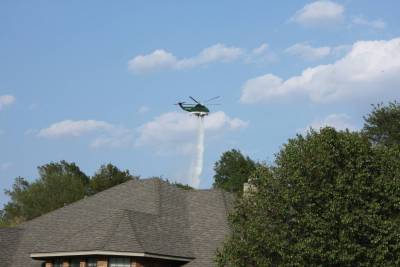 (Click to embiggen)
There was a pretty big fire right on the edge of our development. According to police spokesman, Sgt. Joe Snyder, the fire threatened 100 houses at its worst, but thankfully in the end only caused minor damage to the siding of two houses. Around 25 acres were charred when it was all over. 20 residents were evacuated, but none were injured. Four firefighters were treated for heat exhaustion, after which they jumped right back into the thick of it fighting the fire.
We heard about the fire while we were out shopping, so we almost immediately returned back home to see what was going on. At that point, there were plumes of black smoke that we could see from a few miles away, and right near the entrance to the development, there were flames 20-30 feet high (by my estimate - my wife thinks they were higher, but it's also possible we could both be overestimating due to our excitement). The main entrance was closed, so we had to take the back way in. The picture above shows how close the fire was to our house - close enough to be a bit concerned, but not anywhere near as concerned as the people living in the houses that were evacuated. At one point, when the wind shifted, it got a little hazy around our house from the smoke, but most of the time the wind was blowing the smoke just north of us.
The helicopter showed up a little while after we got home, and by that point, the smoke wasn't nearly as bad. The helicpter stayed for around an hour or so making several dumps. Here are a couple more photos of it: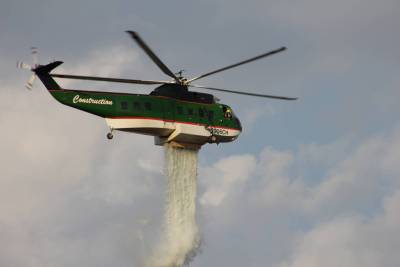 (Click to embiggen)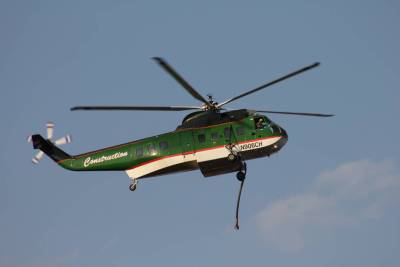 (Click to embiggen)

From what I've heard, the best guess is that the fire started when an electrical transformer exploded. With as dry as it's been here, those sparks were enough to start the fire. Whether the transformer did actually start the fire or not, we were without power for several hours. With the heat wave here, it was starting to get pretty stuffy.
Thankfully, the firefighters were able to get the fire under control and prevent any major damage or injuries. And the power company was able to restore power within a couple hours of being allowed on site.
So, to the firefighters and utility workers who worked in the 106º heat to save our houses and give us our power back, I want to express my sincere and deepest gratitude.
More Info:
*Okay, technically, that was the view from my next door neighbor's yard - the tree in the bottom right of the photo blocked the view from our yard.