Jessica Ahlquist, School Prayer, and Christian Love
This is old news by now, and has certainly made the rounds in the skeptical blogosphere, but like I often do, I'm repeating this for friends and family who don't frequent the same areas of the web that I do.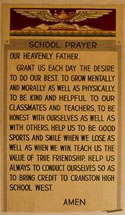 At Cranston High School West in Rhode Island, there was a mural painted to look like a banner with a prayer on it. For reference, here's the full text of the prayer (per WPRI):
Our Heavenly Father, Grant us each day the desire to do our best, To grow mentally and morally as well as physically, To be kind and helpful to our classmates and teachers, To be honest with ourselves as well as with others, Help us to be good sports and smile when we lose as well as when we win, Teach us the value of true friendship, Help us always to conduct ourselves so as to bring credit to Cranston High School West. Amen
The mural had been there for decades, but just recently, it has become the focus of some controversy. The short story is that a student, Jessica Ahlquist, complained to the adminstration that the banner was illegal and that it marginalized non-Christians. The school didn't listen, so she went to the ACLU. The ACLU told the school that the banner was clearly illegal, and that there wouldn't even be a debate if it were to go to court. The school still did nothing. So, the ACLU followed through, filed a lawsuit, and unsurprisingly, a judge ruled that mural had to be removed. As part of his opinion, he wrote:
No amount of debate can make the School Prayer anything other than a prayer.
Well, as you can expect, throughout the whole affair the 'good' Christians of Cranston have not been happy about this at all. It really has brought out the worst in some people. The blog, JesusFetusFajitaFishsticks, has a collection of some of the comments that have been directed at Jessica. Of course, there are the usual Christian threats that she'll burn in Hell, along with lots of people calling her a bitch. There are some threats that get even more explicit, such as:
Fuck Jessica alquist I'll drop anchor on her face
Let's all jump that girl who did the banner #fuckthatho
"@Ry_Simoneau: But for real somebody should jump this girl" lmao let's do it!
@jessicaahlquist your home address posted online i cant wait to hear about you getting curb stomped you fucking worthless cunt
As that last comment pointed out, someone even published her home address in the comments section of the local paper. In fact, the threats were so bad, that Jessica had to get police protection.
And it's not just young students acting out against Jessica. Grown adults are getting in on the act. Rhode Island State Representative Peter Palumbo, a Democrat, made some comments about Jessica on the John DePetro Show. He called her, perhaps somewhat jokingly, "an evil little thing". He also said, "Poor thing. And it's not her fault. She's being trained to be like that." When pressed on it, he relented a bit on her, but said that "she's being coerced by evil people." Seriously. An elected official is calling people evil for asking a school to take down a sectarian prayer.
On the petty side, local florist shops are refusing to deliver flowers to Jessica. The organization that was trying to send her the flowers eventually went to an out of state florist. According the the FFRF press release:
FFRF was forced to go to an out of state business, Glimpse of Gaia, in Putnam, Conn., which not only agreed to deliver the flowers but threw in a second bouquet from the shop with its own message, "Glimpse of Gaia fully supports our First Amendment and will not be bullied by those who do not. Here's to you, Jessica Ahlquist."
This whole ordeal has revealed quite a bit of hatred and bad behavior over someone simply asking a school to follow the law of the land and respect the Constitution. It's certainly revealed the ugly side of Christianity, and shown Jessica Ahlquist to be a very courageous young woman.
---
Here are a few sites where you can show your support for Jessica:
jessicaahlquist.com
Support Jessica Ahlquist
Evil Little Shirts
Here's one more link to a news story:
Rhode Island Teen's Battle Against Prayer Banner Has Gone 'Too Far,' Mayor Says
And I'll also note that The Digital Cuttlefish has devoted quite a few blog entries to creating verse about this situation. It's well worth browsing through that site to read them (as well as all the other poems).