Darwin Day & a Quick Announcement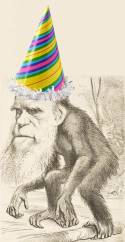 Yesterday was February 12th, the 203rd birthday of Charles Darwin, and the day designated to celebrate Darwin Day. So, happy belated Darwin Day. I didn't post anything special this year just for Darwin Day, but there's plenty of evolution related content on this blog if you just look for it.
And now for the short announcement. I've been neglecting some of the maintenance on this blog for too long. I notice that if you click on the Skepticism and Religion category, you get an error. There are also some things I'd like to do that I can't figure out how to do with Movable Type 3.2, but which seem to be standard with newer versions. So, I'm going to update the Movable Type software running this blog. Hopefully it goes smoothly and the site is never down. But just in case, this is your warning.
I'll see everybody on the other side.