Book Update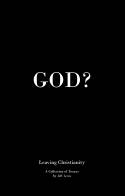 Well apparently, the link that I first got to sell my book on Lulu has changed, and I never realized it. So, anyone who clicked on the link in the sidebar of the blog homepage got an error message from Lulu saying that the product couldn't be found. I'm sure that explains why my book hasn't become a runaway best seller.
So, I fixed the link on the blog homepage, as well as in the Religion section of the site (where you can read the essays for free), and in all the blog entries that mentioned the book. I guess that now I can expect the profits to start rolling in.
Anyway, here are links to the various formats where you can buy the book.