Kaimira - A Disappointing Way to End a Book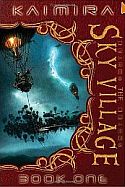 A few weeks ago, I was up in Maryland visiting my parents. There's a great bookstore up that way called Wonder Book. It's a used bookstore with tons of books at reasonable prices. With my mom's and my passion for books, we almost always manage a trip there every time I visit. This time, a certain book caught my eye, mainly for the cover art, so I grabbed it. The title was Kaimira: The Sky Village: Book One by Monk Ashland (actually Chris Rettstatt) and Nigel Ashland. It was touted as the first in a series of five books. Here's the book description from Amazon:
High over China, the Sky Village, an intricate web of interconnected hot-air balloons, floats above the troubled landscape, where animals battle machines for control. Mei's mother has been kidnapped, and she has been left in this strange place by her father.

Half a world away, thirteen-year-old Rom struggles to survive in the ruins of Las Vegas. When his young sister is taken by a pair of demonic creatures, Rom has no choice but to follow her into a shadowy world below ground. There, he becomes engaged in gladiator-style fighting in an arena where mehanical-beast demons do battle for the entertainment of a chaotic community of gamblers.

Mei and Ron have never met, but they share a common journal, a book that mysteriously allows them to communicate. It also reveals that each of them carries the strange and frightening kaimira gene and that aspects of beast and mek qualities are entwined in their very DNA.

In this thrilling, intricately plotted novel, the first in a five-book series, Mei and Rom must overcome the forces that seek to destroy them and find the courage to balance the powers that lurk within.
It was pretty good. Maybe not the best book I'd ever read, but certainly enjoyable, and far better than some other books that I've read (like a certain series with sparkly vampires). So I was looking forward to reading the rest of the series. Unfortunately, when I got onto Amazon, I couldn't find it. I thought that maybe it just wasn't out yet, so I did a little more searching, and it doesn't look promising.
Chris Rettstatt, who wrote under the pen name of Monk Ashland, has a website, rettstatt.com. He has a blog that was last updated just over a year ago, but that last entry had nothing to do with the Kaimira series. He does have a section devoted to Kaimira, but his last entry for that was from 2010, and most of the entries are from 2008. And in the comments of his last Kaimira entry, a few people asked him specifically about book 2 of Kaimira, and he hasn't responded. It's frustrating because the old stuff looks so promising. He has information about awards it was nominated for (like the Cybils 2008), a possibility of expansion into TV and gaming, a paperback edition being released, an update on the second book, and a mention that he'd turned in the first draft of the second book. The most recent update I could find of Rettstatt was his participation in the 6th annual Digital Kids Conference back in April.
I guess the moral is, before starting on a series, make sure that the series will be completed. If I hear anything about any other Kaimira books being released, I'll update this post.