Brief Thoughts After Watching Life of Pi
Warning: Spoilers ahead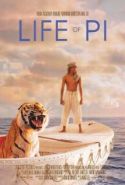 Over the weekend, I watched the movie, Life of Pi. I liked it, though it was very sad. I really hadn't known much about the story beforehand, so I didn't realize that there would be so much discussion of religion. Honestly, I didn't think there was anything truly profound about the religious discussions - I thought it was just a part of the story. Perhaps the book was different, or perhaps I missed it, but apparently, the religious aspect was a big part of the story. One critic, Brian Bethune, called the book a "head-scratching combination of dense religious allegory, zoological lore and enthralling adventure tale, written with warmth and grace". Even President Obama said, "It is a lovely book -- an elegant proof of God, and the power of storytelling."
Now, I'm not completely blind to the religious themes in the movie. In fact, I think it nailed one aspect of religion particularly well, if not necessarily intentionally. [Warning - here come the spoilers]. Pi told two different stories of how he survived on the lifeboat. The first was the fantastic tale that took up most of the movie, where Pi had to share the lifeboat with the Tiger, Richard Parker, and had many improbable experiences. The second was a harsh story of survival, where the ship's cook killed two other people on the lifeboat, and Pi killed him in revenge to be the sole survivor of the ship's sinking. After telling the writer these two different stories, Pi asked him which story he preferred, and the writer chose the story with the tiger. Pi replied, "And so it is with God."
Accepting one story means embracing reality for what it is, no matter what the consequences or how it makes you feel. Accepting the other story means closing your mind to reality, and picking the story that makes you feel better. "And so it is with God" indeed.
To tell the truth, I'm not sure I'm taking away the same message as what was intended. I think the story was supposed to be more ambiguous, and seen in an almost post-modernist light. That is, how can we tell what's true exactly, so why not pick the story that we prefer? Obviously, I disagree with that mindset. Of course, there are limitations to our knowledge - things we don't or even can't know for certain. But there is only one reality. We can't pretend that our limitations in discerning reality mean that we can pretend reality is whatever we want it to be. Our goal should be to narrow those limitations as far as we can, to get our understanding as close to reality as possible.