Book Review - The Book of Genesis Illustrated by R. Crumb
The Book of Genesis Illustrated by R. Crumb was very interesting. As the title states, it was the complete Book of Genesis illustrated as a graphic novel by the noted artist, R. Crumb. Crumb took a bit of artistic license in creating his own translation, but it was basically a synthesis of the translations of Robert Alter and the King James bible, and stayed true to what most people would recognize as Biblical passages.
I won't use this space to comment on the actual Book of Gensis. If you're interested in my take on that, read some of the entries in my Friday Bible Blogging series. Rather, I'll comment on Crumb's work. The actual text of Genesis isn't particularly detailed, so to illustrate the entire book took a bit of interpretation on Crumb's part. For example, how did God go about creating everything ex nihlo? What were the tones and expressions people used when speaking? What did all those people look like (particularly the long begat sections)? Seeing Crumb's illustrations along with the text added a new dimension to the stories (though of course, a new dimension that can color your interpretation).
Since this is a graphic novel and thus the pictures are hugely important, here's one example of an illustration from the book, from the massacre of Noah's flood (note that I took a photo of the book with my phone, then touched it up on a computer, but there's only so much touch up I could do).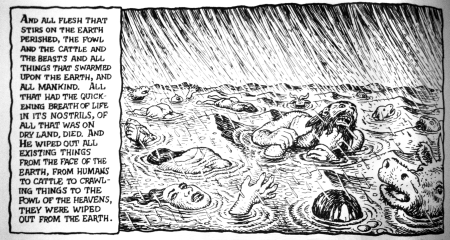 And here's another, from when Jacob stole Esau's blessing from their father, Isaac (the distortion from the camera and the page not being flat are more pronounced in this picture).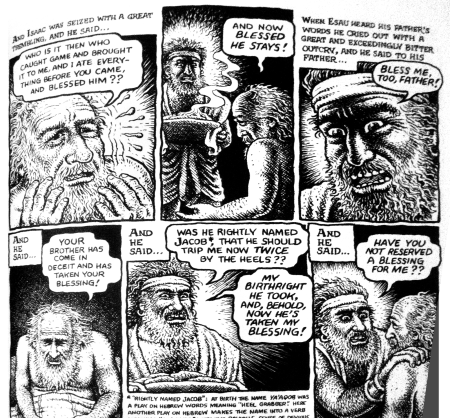 I know that I had read some people making a big deal of the entire book being illustrated, including some of the more risque parts like Noah having sex with his daughters, but rest assured that this isn't pornography. There was cartoon nudity, but nothing I'd have a problem with my teenage daughter seeing.
At the end of the book, there was a commentary section, where Crumb wrote a paragraph or two on each of the chapters. Crumb's no professional Biblical scholar, but this section was interesting, none the less. He brought up an idea I hadn't heard before. I mentioned it already in the entry, Friday Bible Blogging - Genesis 11 to Genesis 20, so I'll just repeat what I wrote there, "when I read the notes in the back of The Book of Genesis Illustrated by R. Crumb, I learned of an interesting if somewhat questionable interpretation of this story and of Sarah's barrenness. As put forth by Savina J. Teubal in her book, Sarah The Priestess
, these are vestiges of a prior tradition. Sarah was a priestess in a matriarchal tradition. She was childless not because of infertility, but because priestesses were barred from having children. Further, her marriages with the kings they visited with were a type of hieros gamos, or sacred marriage. According to Teubal, these stories were modified as authority was transferred to a patriarchal tradition. You can read more about that theory, along with other interpretations, at My Jewish Learning - Sarah in the Bible."
If you have the time, this is an interesting way to read the Book of Genesis.