The Bible on The History Channel - A Disappointing Adaptation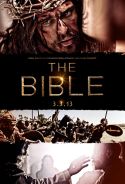 The History Channel just aired the premiere of a new mini series, The Bible. Since I'm in the midst of reading the entire Bible right now (see my series, Friday Bible Blogging), and I'd just finished with the book of Numbers, I figured this first episode on the early books of the Old Testament would be right up my alley.
To be honest, I didn't pay very close attention to the commercials for the series, so my preconceptions weren't accurate. Since it was the History Channel, I was expecting a documentary, albeit one with a lot of special effects and reenactments of the stories (is 'reenactments' really the right word for myths?). Had I actually paid attention or looked at the History Channel's website, I would have known that this is a mini series. There is no commentary or analysis. It's simply a dramatization of the stories, with a narrator at points to help move the episode along.
Still, a mini series could be good. I thought it might be interesting to see some of the stories I've been reading about come to life on the small screen. Here's the description of the series from the History Channel.
The Bible comes to life in HISTORY's epic new series. From Genesis to Revelation, these unforgettable stories unfold through live action and cutting-edge computer-generated imagery, offering new insight into famous scenes and iconic characters. Created by producer Mark Burnett and featuring an international cast that includes Roma Downey, this 10-hour docudrama explores the sacred text's most significant episodes, including Noah's journey in the ark, the Exodus and the life of Jesus.
Sounds okay so far. What's more, while they're calling it a 'docu-drama', they're claiming to have consulted with a lot of experts in the making of the series. Here's a quote from the About page on Outreach.com, specifically from the section, Biblical Accuracy & The Bible.
According to an interview with Ms. Downey the miniseries, "...is being made with full hearts. We've had scholars and theologians help. We're not pretending to be biblical experts. We brought experts in once the scripts were created to take a look at the scripts to make sure we were accurate and true to the Bible, but obviously we're making a movie, and so we breathed creative expansion into that."

The Bible project advisors include:

Rick Warren - Pastor, Saddleback, Erwin McManus - Pastor, Mosaic, Jim Daly - Focus on the Family, Sam Rodriguez - National Hispanic Christian Leadership Conference, Paul Eshleman - Campus Crusade for Christ, Bobby Gruenewald - YouVersion Bible, Brad Lomenick - Catalyst, Leith Anderson - National Association of Evangelicals, Frank Wright - National Religious Broadcasters, Tom Peterson - Catholics Come Home, Geoff Tunnicliffe - World Evangelical Alliance, Gabe Lyons - Q, Luis Palau, George Wood - Assemblies of God, Craig Groeschel - Life Church, Denny Rydberg - Young Life, Andrew Benton - Pepperdine University
That sounds so promising (well, at least from the point of view that they'd tried to keep everything as close to the Bible as possible). Unfortunately, after watching just a bit of that first episode, I was extremely disappointed. As happens so often with film adaptations of books, too much had been changed. That's unexpected for a supposedly sacred book believed to be the divinely inspired word of God, especially when the producers are Christians themselves. I was also disappointed in that it left too much out. I know it would have been impossible to include every detail from the Bible, but some of the omissions were significant.
To get into details, the series began with Noah's Ark. For some reason, this has always been one of my favorite stories from the Bible. But the amount of coverage it got was miniscule - just a few minutes showing Noah reciting a paraphrased version of the first creation story from Genesis to his family while they were getting tossed about in the ark, with cuts to scenes of the creation. And that was it. No scenes of Noah building the ark, loading the animals, getting everything off the ark when the flood was all over, sacrificing all the animals, getting drunk and cursing Canaan. It was as if Noah's Ark was used only because it provided a good opportunity for special effects. (As a side note, I was also struck by how roomy the ark was inside - not crowded at all for a boat carrying specimens of every land animal on Earth.)
When Abraham and Lot were doing their travelings, and it became clear that their herds were becoming too big to keep together, the Bible states, "8 Then Abram said to Lot, 'Let there be no strife between you and me, and between your herders and my herders; for we are kindred. 9 Is not the whole land before you? Separate yourself from me. If you take the left hand, then I will go to the right; or if you take the right hand, then I will go to the left.' " Not so in The Bible mini series. At the urging of his wife, Lot told Abraham that they'd decided not to follow Abraham any longer, and to go settle near Sodom. And Abraham was distraught, begging Lot to remain with him. Why? It wasn't to help shorten the story to fit time constraints. It was a needless change.
And then there was the destruction of Sodom and Gomorrah. Even the way the angels found Lot's house was different from in the Bible. Instead of simply meeting him and being invited in, they were being chased by an angry mob and were in need of help. When the mob tried to get into Lot's house, there was no mention of their wanting to 'know' the angels, and Lot never offered his daughters to the mob in exchange for the strangers' safety. Those omissions would have taken less than 30 seconds to include. But perhaps worst of all for this chapter of the story, when it came time to flee the city, it was a battle. And the angels were the warriors. I read one review that called them angel ninjas. It was ludicrous.
Abraham's story had so many interesting points that were left out. Sara never became the wife of the Pharaoh. Abraham never built his altars and made his sacrifices (there was a telling omission of animal sacrifices in general), nor dug his wells. The Tower of Babel and other stories were left out entirely. I understand that some details had to be omitted, but when there were gratuitous scenes like the ninja angels, or another invented scene where Moses fought with his step brother, you know that the producers did have the time to include some more actual details from the Bible rather than invent things out of thin air. It also seemed to me that some of the omissions were sanitizing the stories.
I could go on, but the main point is that this adaptation played very fast and loose in its interpretation of the Bible. Just about every part I watched (at least until I fell asleep some time around the Exodus from Egypt) had glaringly obvious differences from the book. Obviously, I'm not troubled by this for any theological reasons myself, but the nerd in me just hates to see film adaptations butcher their source material. If you really want to know what's in the Bible (and it's not pretty), go read it for yourself.
Image Source: BibleSeriesResources.com
---
Update 2013-03-08 Added sentence about Abraham being distraught when Lot decided to leave. Also clarified sacrifices as animal sacrifices.