Happy Fastnach Day 2014
Happy Fastnacht Day! My daughter and I woke up before dawn this morning to make our fastnachts this year, and you can see the results below.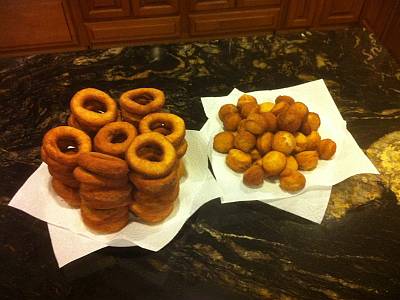 I usually try to put these posts up before Fastnacht Day to remind people to make them this morning, but I forgot this year. Still, if you stop by the grocery store on your way home today to pick up buttermilk and maybe a few other ingredients you might not have, you can still make them tonight in time for the holiday. If you don't know what fastnachts are, read on. (As a quick note, since there's not much to change in these entries from year to year, this entry is just a slightly reworked version from years past.)
Depending on where you are in the world, you may call today something else, like Mardi Gras, Shrove Tuesday, or Pancake Day. But from where I'm from in Pennsylvania, it's called Fastnacht Day (here's a link to the Wikipedia article). Traditionally, you make potato based donuts, called fastnachts, on the morning of Fastnacht Day, supposedly as a way to empty your larder of all the fatty, sugary foods in preparation for the Lenten fast. My elementary school even used to give out donuts with the lunches on this day. In celebration of Fastnacht Day, and so others can join in, here's my family's recipe for making them:
You're supposed to wake up early to make the fastnachts on Tuesday morning (they're freshest that way), but a few times I've made them the night before, and they're still okay. They keep pretty well in a brown paper lunch bag. I also like to put a little bit of powdered sugar into a ziploc bag, and a mix of granulated sugar and cinnamon into another one, to coat the fastnachts just before eating them.
To see just how popular fastnachts are back up in Pennsylvania, go have a look at this article, Fastnacht reminder -- order yours before Tuesday, with a photo showing some of the 2800 fastnachts that a local church made, or this article, Frying fastnachts for pre-Lenten splurge, about a fire company that made 42,000 of them for a rundraiser. Here's an article from this year, Fastnacht day is here!, with a few more pictures showing different ways of making fastnachts, including a church with a rolling fastnacht cutter to cut dozens at once (we use pint glasses and shot glasses).
I took a few pictures last year while we were making the fastnachts (the only picture I got this year is the one up above after they were done). The first one below is my daughter rolling out the dough to cut more fastnachts. The second is the first batch frying up in the pan. The scene this morning was pretty much the same. Like last year, we doubled the recipe again this year, so the picture up top is twice as much as what you'd normally get from my family's recipe. But all three of us (my wife, daughter, and I) take them in with us to work/school to share them, so the double batch still goes quickly.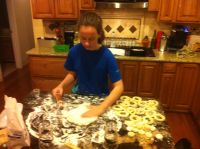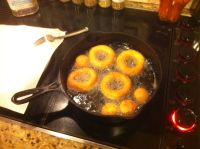 A guy I worked with from Chicago mentioned a similar tradition up there - paczkis, from the Polish immigrants. But instead of a hole in the middle like my family's fastnachts (not all fastnachts have the hole), they have a filling, usually jelly or creme. I guess lots of groups have invented traditions to allow indulgence before a 40 day fast.