Depressing Poll - Majority of Americans Support Torture
This is a few weeks old, but I can't let it go by without commenting on it.
In the wake of the Senate Intelligence Committee's report on the CIA's use of torture, the Washington Post and ABC News conducted a poll to determine American's attitudes towards torture. And the results were depressing. Over half of Americans thought that torture was justified! Let that sink in a minute. We're talking about methods bad enough that we executed the Japanese soldiers who used them against American soldiers during WWII. Some of the detainees were tortured to death. And on top of all that, not all of the people tortured were actual enemies - they were merely suspects who never received their day in court, and some have since been determined to have been innocent. And people think this is justified!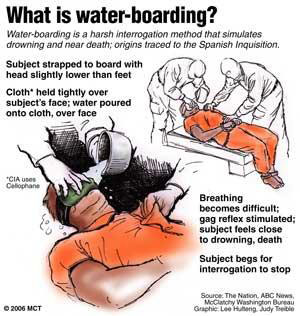 (Image Source: Raw Story)
For a bit of historical perspective, let's consider a document that while not quite a founding document of the USA, was still very important in showing the attitudes of the nation's founders, the Declaration of Independence. Here's the opening line to the second paragraph (emphasis mine):
We hold these truths to be self-evident, that all men are created equal, that they are endowed by their Creator with certain unalienable Rights, that among these are Life, Liberty and the pursuit of Happiness.
All men. Unalienable. Jefferson and the signatories weren't hedging their words. They thought everyone was deserving of "Life, Liberty and the pursuit of Happiness".
Now, let's move on to a document that actually does carry legal weight in the U.S., the Constitution. Take a look at the eighth amendment (again with emphasis by me):
Excessive bail shall not be required, nor excessive fines imposed, nor cruel and unusual punishments inflicted.
It's right there in our nation's founding document that 'cruel and unusual punishments' are forbidden, yet here we are doing just that.
Now, you could bring up the practical side, and point out that torture isn't even an effective means of obtaining information - that it's unreliable and non-torture methods are more effective. But that's a bit of a red herring. Torture is wrong on moral grounds, not just practical ones.
Americans are rightly outraged at the horrific examples of ISIS beheading U.S. journalists. But it's not because the beheadings are ineffective at ISIS achieving their goals. It's because the actions are barbaric. But how can the U.S. claim any moral high ground when we do things like this (source: The Guardian):
At COBALT, the CIA interrogated in 2002 Gul Rahman, described as a suspected Islamic extremist. He was subjected to "48 hours of sleep deprivation, auditory overload, total darkness, isolation, a cold shower and rough treatment".

CIA headquarters suggested "enhanced measures" might be needed to get him to comply. A CIA officer at COBALT ordered Rahman be "shackled to the wall of his cell in a position that required the detainee to rest on the bare concrete floor".

He was only wearing a sweatshirt as a CIA officer has ordered his clothes to be removed earlier after judging him to be uncooperative during an interrogation.

The next day, guards found Rahman dead. An internal CIA review and autopsy assessed he likely died from hypothermia - "in part from having been forced to sit on the bare concrete floor without pants". An initial CIA review and cable sent to CIA headquarters after his death included a number of misstatements and omissions.
Torturing someone, and then leaving them chained half naked to a cold concrete floor to freeze to death is barbaric. And whereas a beheading, as horrific as it is, is relatively quick, this was a prolonged torture. And the final freezing to death took hours. It was horrible.
And what about this:
"The two detainees that each had a broken foot were also subjected to walling, stress positions and cramped confinement, despite the note in their interrogation plans that these specific enhanced interrogation techniques were not requested because of the medical condition of the detainees," the report says.
And if forcing people with broken bones to stand on those bones doesn't seem harsh enough, how about shoving food and water up a person's anus:
CIA operatives subjected at least five detainees to what they called "rectal rehydration and feeding".

One CIA cable released in the report reveals that detainee Majid Khan was administered by enema his "'lunch tray' consisting of hummus, pasta with sauce, nuts and raisins was 'pureed and rectally infused'". One CIA officer's email was in the report quoted as saying "we used the largest Ewal [sic] tube we had".

...

Risks of rectal feeding and rehydration include damage to the rectum and colon, triggering bowels to empty, food rotting inside the recipient's digestive tract, and an inflamed or prolapsed rectum from carless insertion of the feeding tube. The report found that CIA leadership was notified that rectal exams may have been conducted with "Excessive force", and that one of the detainees, Mustafa al-Hawsawi, suffered from an anal fissure, chronic hemorrhoids and symptomatic rectal prolapse.

The CIA's chief of interrogations characterized rectal rehydration as a method of "total control" over detainees, and an unnamed person said the procedure helped to "clear a person's head".
These were sadistic, disgusting acts committed against human beings. And remember that they were only suspects, who never had their day in court to determine their innocence or guilt. It's absolutely shameful that a majority of Americans support this.

Aside from pointing out just how horrible this torture has been, the survey revealed something else. It broke down support for torture by various groups (details here), including political party and religious affiliation. It's probably not very surprising, but support for torture was highest among conservatives, Republicans, and the religious. In fact, the three demographic categories listed with the highest support for torture were conservative Republican (72%), Republican (71%), and white evangelical Protestant (69%) (note that percentages represent people answering 'sometimes' or 'often' to the question of whether torture of suspected terrorists can ever be justified). The three demographic groups with the least support were liberal Democrat (38%), no religion (40%), and liberal (43%). It's still distressing that so many liberals support torture, but at least it's not a majority.
Since I write about religion so much on this blog, I'll also point out explicitly that the 'no religion' category was the religious category with the least support for torture, or conversely, with the most opposition. Every other religious group listed had majority support (white evangelical Protestant - 79%, white Catholic - 68%, white non-evangelical Protestant - 63%). This is just further demonstration that religion doesn't lead people to better morals.

Anyway, I'm done with this entry. Every time I read through it again to proof-read or see if there's anything else I want to add, I just get angry. This is a horrible, horrible stain on our country's reputation. Everyone involved, from Bush and Cheney on down, ought to be taken to the Hague and tried for human rights abuses. But instead of justice, we live in a country where the majority supports this depravity.