Traveling Bad Luck Trifecta

I had a trifecta of bad luck traveling back from a conference yesterday (at least they were all minor instances of bad luck, and nothing horrible).
First, the flight was full, so I had to check my carry on bag instead of putting it in the overhead bin. It wouldn't have been a huge deal, but my flight wasn't scheduled to get into DFW airport until 10:00 pm, and I had a 2 hour drive to get back to Wichita Falls. I was hoping for as few delays as possible to getting on the road.
Second, once our plane was getting close to DFW, we had to go into a holding pattern. There had been a lot of thunderstorms in the area, shutting down the airport for a time, so there were a lot of delayed planes trying to make it in, and we were at the end of the line. Eventually the plane landed, when the flight attendant came on over the speaker system and said that it looked an awful lot like Houston out there. I think most people thought he was joking about the hazy weather, but I jumped right on my phone to pull up the maps, and sure enough, we were in Houston. Eventually the pilots came on to explain the situation - we'd been in the holding pattern too long and ran low on fuel. We had to divert to Houston to refuel, and to wait on the situation in DFW for the pilots to decide what to do. After an hour or so sitting in Houston, they refueled the plane and we flew on to Dallas.
After waiting longer than I wanted to at the baggage claim, I got my suit case and went off to the parking garage to get into my car, when this happened. I'd noticed a lot of traffic on the way to my car, but I chalked it up to all the construction going on at that terminal, and was even thinking to myself that I was glad the exit from the garage would bypass most of that traffic. I had no idea that the one road leading out of the terminal was flooded under two feet of water. Traffic was backed up all the way into the parking garage, and I think I sat for nearly an hour just in the garage before the water receded enough to where cars could start making their way through. After that, it was probably another good 20 minutes feeding into the main road to get out, and I didn't actually leave the airport till around 3:00 am. By the time I got to where the flooding had been the worst, it looked just about like this: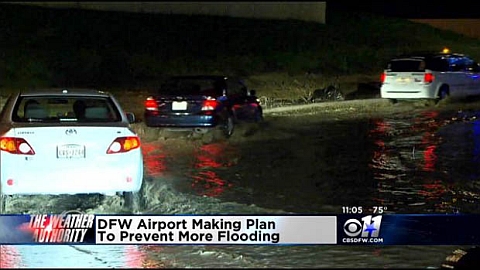 Image Source: CBS
Luckily for me, I have family down in the area, so I crashed at my brother-in-law's place (brother's-in-law?), and drove back this morning in daylight. It was a bit more eventful of a trip than I'd have liked, but in the big picture, I suppose it wasn't really all that bad. Even with the delays, it took less time than it would have taken to drive it.
Horseshoe Image Source: Wikimedia Commons, edited by me