Genetic Evidence for Evolution - Vitamin C Pseudogene
This entry is part of a collection on Understanding Evolution. For other entries in this collection, follow that link.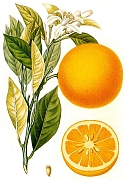 As I've been doing a lot recently, I'm going to recycle a Quora answer for this entry. The Quora question this time was What are 3 facts that prove the biologic evolution theory?. After a bit of preamble about science not being able to 'prove' anything (for example, see my essay, Confidence in Scientific Knowledge), I got down to the answer - genetics, and the specific example of the GLO pseudogene*. Here's an edited version of that portion of my Quora answer**.
---
I'm only going to look at one narrow piece of evidence for evolution in our DNA. But as an aside before getting to the meatier answer, just the general similarity in genes of all organisms is already a decent argument in support of common descent. Why else should organisms have common genes? If it was special creation, why even use DNA in all organisms, and not get a little more creative in how to store genetic material. But the similarity in DNA goes beyond just genes. It's also in the structure of our chromosomes, in regions in the DNA that don't code for genes (much of it quite frankly junk - Is Most of Our DNA Garbage?), and in regions that used to code for genes that have since become non-functional due to mutation (pseudogenes).

One particularly striking example is one of the genes involved in the synthesis of vitamin C, L-gulono-γ-lactone oxidase, or GLO. All but three lineages of mammals can synthesize their own vitamin C and don't need to get it from their diets like us. The three lineages that can't synthesize vitamin C are anthropoid primates (which includes us), guinea pigs, and bats. All three of those lineages contain a form of the GLO gene, but in each lineage, mutations to the gene have damaged it to the point of disabling vitamin C production. But the thing is, the specific mutations are different in each lineage, but common to all members of those lineages. In other words, the damage to the GLO gene is the same in all anthropoid apes, but different from the damage in either guinea pigs or bats. Similarly, all guinea pigs share the same damage, which is different from that in primates or bats. Ditto with bats.

When you think about that, that's hugely indicative of common descent. With similarities in functional genes, a creationist or Intelligent Design advocate can always say that common purpose means common design, and God (or the designer) simply used the same genes in different animals. And creationists can even sort of explain isolated pseudogenes as a result of The Fall, where mutations have damaged what was supposedly at one time a perfect creation. But having the same broken genes in closely related species, and broken in the same way, is a whole lot harder to understand from a creationist perspective. The chances of those same mutations occurring in the same manner in all of the anthropoid primates is simply too unlikely to be taken seriously (and that unlikelihood is only compounded by each of the other lineages with mutations to GLO). So, absent common descent, that would mean all those broken genes would have had to have been present in all anthropoid primates from the very beginning. Why would a god (or intelligent designer) have put broken genes into organisms in the first place, and why break them in the same way in all anthropoid primates, but then in a different way in guinea pigs and yet a different way in bats (and in yet more ways in non-mammals that I didn't discuss). From an evolutionary perspective, it makes perfect sense. The damage occurred once in the common ancestor of anthropoid primates through a particular set of mutations, and that broken gene was then passed on to all it's descendants. At another time in another place, damage of a different sort occurred in some ancestral guinea pig, which was then passed on to all the descendant guinea pigs. And the same thing for bats, and all the non-mammals that have damage to GLO.

And that's just one example of one pseudogene. There are other pseudogenes, genes, regulatory stretches of DNA, and regions of junk DNA that all make the genetic evidence for evolution one of the strongest lines of evidence there is. But it's hardly the only line. To echo something I wrote in yet another Quora answer, if you're willing to put in a little reading, there are some great books on the subject. My two favorite introductory books are Jerry Coyne's Why Evolution Is True, and Donald Prothero's Evolution: What the Fossils Say and Why It Matters, which cover topics like fossil evidence for evolution, vestigial organs, embryological evidence, evidence from poor 'design', and biogeographical evidence. Given the enormity of the evidence in support of evolution, a single book can't come close to being comprehensive, but both of those books present enough evidence to be very convincing. Why Evolution Is True is my favorite of the two, and is a little more broad in the types of evidence it covers, as well as covering a bit more of the theory and mechanisms, not just evidence. If you want to get even more on the mechanisms and theory of evolution, but still in a book aimed at non-biology majors, Carl Zimmer's The Tangled Bank: An Introduction to Evolution is very good (though a bit on the expensive side - you might look for it at a library).

Reference:
The Genetics of Vitamin C Loss in Vertebrates
Image Source: Wikimedia Commons
---
* GLO had previously been mentioned briefly on this site before in Ein Sophistry's Genetic Evidence of Evolution.
** This Quora answer itself was adapted from a comment I left to another Quora answer, Niall Harman's answer to What is the evidence for biological evolution and what is the evidence supporting creationism?

Want to learn more about evolution? Find more at Understanding Evolution.