Answering Quora - Is technology replacing spirituality?
In keeping with the spirit of my recent entry, Does spirituality provide anything that science cannot provide?, this week I'm answering a related question that was recently posted on Quora, Is technology replacing spirituality?. Here is my answer.
---
Below is perhaps my favorite photograph of all time, the The Chandra Deep Field South*: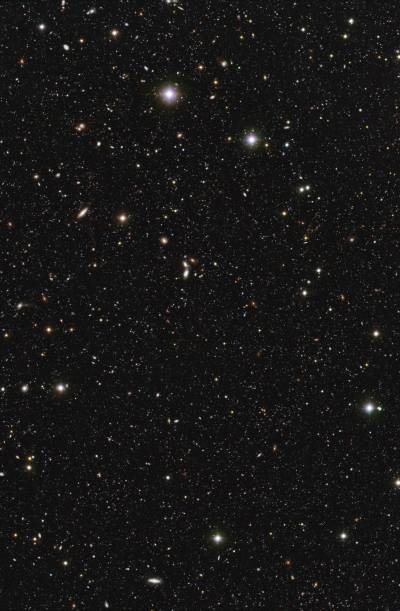 That's only a very low-res version. Go visit the ESO page, A Pool of Distant Galaxies, download the full image, and take some time to look at it and marvel (really, I mean it, you won't be disappointed). Practically every point and smudge of light in that image is an entire galaxy, not just a single star. And that image covers a portion of the sky smaller than the full moon. The image is awe-inspiring, humbling, and marvelous all at the same time. Thousands of years ago when people looked up at the night sky, they thought the stars were shiny objects embedded in a firmament, or mythological beings. There was no conception at all of how unimaginably vast the universe really is. It's only technology that makes images like this one possible, and that reveal to us our place in the universe.
And how did I come to find this image personally? The Internet - a vast collection of networked computers sharing practically all of human knowledge. And this image is but just one example. There's a whole vast array of mind-blowing lessons to be found online, from understanding evolution and our place in the vast tree of life, to the tiniest known portions of nature, subatomic particles, that are only known about because of technologies like the LHC at CERN. And the Internet itself is only possible because of humanity's understanding of semiconductors, electronics, logic, etc. Without that type of technology, I'd be stuck with magazines and other print sources for whatever scraps of information I could find. And even those 'old' information sources rely on printing technology. Before the printing press, my only information sources would have been hand written manuscripts or word of mouth.
Science and technology have revealed so much that would have been impossible to know before. Sure, it's given us distractions, as well. But for those willing to look, it's provided us with a far deeper understanding of nature and the universe and our place in it than any ancient culture could have dreamt of.
---
*I've used this image before, in the entry, The Universe Is Big. I had a little more explanation putting this image into perspective. And while I was at it, I did take some time to study that image again. It gives me butterflies in my stomach every time.