2016's Depressing Election Results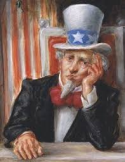 Today is a sad, sad day in American history. As a people, we have elected by far the worst presidential candidate in the modern era, and quite probably in all of U.S. history. As I've written several times now, Donald Trump is a proto-fascist demagogue with no relevant skills for the position, a frightening lack of foreign policy knowledge, a poor track record in business, an abysmal history of scandal and alleged criminal conduct, a complete lack of regard for truth and honesty, and a demeanor wholly unbefitting of the oval office, on top of his bigotry against many minority groups. But he was elected fairly. John Wayne may have said, "I didn't vote for him but he's my president, and I hope he does a good job," and while I do sincerely hope that, I fully expect Trump to be very, very bad for this country. My principal hope is that he's not as disastrous as I fear he will be, or maybe that he actually will be convicted of one of his many alleged crimes and be impeached, though that would still leave us with Mike Pence, who is only a decent candidate in comparison to Trump.
And the Republicans maintained control of the House and Senate on top of winning the presidency. We will now have the deck stacked fully in favor of Republicans, at a time when the party has become increasingly extremist. This is not the responsible Republican party of Eisenhower or Reagan (even if they had some bad policies). This is the Tea Party Republican party of Ted Cruz and Donald Trump. Not only will they have near free reign in passing their legislation, Trump will be free to nominate extremely partisan right-wing Supreme Court justices. Let's hope that Scalia and Thomas are the only two justices he gets to replace, or we may see extremely important decisions like Roe v. Wade and Obergefell v. Hodges get turned back.
Statewide in Texas, things didn't turn out much better. Granted, as I wrote previously, I voted for Republicans in several races because they were the most qualified. But even in races where there were better qualified Democrats running in opposition, the Republicans won nearly every statewide race. Our State Board of Education, which has a history of Republican extremism, didn't pick up any moderates.
If there's a silver lining in any of this, it's that it looks like Clinton is going to win the popular vote. It may not make any difference in the election, but at least we can say that more Americans supported her than Trump.
Watching CNN last night, I saw Van Jones make some very moving comments on the nature of these results. Everybody should watch this video (or read about it on The Daily Beast). "People have talked about a miracle. I'm hearing about a nightmare." "How do I explain this to my children?"
Here's one more story that reflects the way I feel right now:
The New Yorker - An American Tragedy
I know some people are saying that America has survived worse before, but that's faint consolation for the people who will be affected by Trump's dangerous policies. We survived a Civil War, but hundreds of thousands of people died in the process, with countless more injured. We survived the Great Depression, but with over a decade worth of suffering. We survived George Bush, but with another economic recession, thousands of U.S. soldiers killed, and causing the deaths of hundreds of thousands of Iraqi civilians. Sure, the U.S. as a nation will survive Donald Trump, but how many people will suffer or die because of him?
I am disappointed, disheartened, appalled, and anxious for our nation's future. But what's done is done, and there's no changing the election results, now. I may give myself a day or two to mourn this tragedy, but I will then move on, and continue to fight the good fight and do what I think is best for the people of this nation. I will not let the bigotry and fear-mongering of Trump define who we are. We may not have demonstrated it yesterday, but we are better than that.
Uncle Sam Image Source: FairEconomy.org
---
BTW, here are two links to entries I wrote before the election, the first my warning about electing Trump, and the second a summary of & my endorsements for the Texas SBOE races: