Happy Fastnacht Day 2017
You may call today something else like Mardi Gras or Fat Tuesday, but if you grew up in the same part of Pennsylvania as me, it's definitely Fastnacht Day (pronounced foss-not*). Fastnachts are more or less a potato based donut. They're a Pennsylvania Dutch tradition** (meaning it was originally a German tradition) to use up all the fat and sugar and before starting the Lenten fast. We even got them in school lunches when I was in elementary school (and I'd suspect they still do). Well, I don't do the traditional fast anymore, but I definitely keep up with a tradition of making good food. Like years past, my daughter and I woke up super early this morning to get started on making the fastnachts, and the two of us and my wife each took a bunch of fastnachts with us to share at work / school.
If you want to try making them yourself, it's not too late. Just stop on the way home from work to buy the ingredients you'll need, and make a batch. Here's the recipe my family uses:
Fastnacht Recipe
And just because, here are a couple pictures from when we made them this morning. Since we were running a little late, everybody was grabbing fastnachts to take with them before they were all done, so I didn't get a picture this year of the entire completed double batch.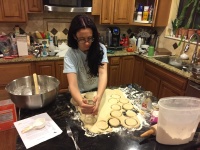 And to give an idea of how popular fastnachts are in that part of Pennsylvania, here are a few articles from local newspapers up that way, along with the Wikipedia entry.
So go get yourself a fastnact today. If you're not near Pennsylvania Dutch country and don't feel like making them yourself, at least go buy yourself a cake donut as a decent approximation.
---
*The original German is a bit different. In fact, a German coworker said they were called fasnachtküchle where he was from in Germany, but I couldn't pronounce it. Though I have other German friends from a different part of Germany, and they'd never heard of the tradition. So I guess it's regional in Germany, too.
**Just to be clear, Pennsylvania Dutch is not synonymous with Amish and Mennonite. Granted, the Amish and Mennonites still stick to Pennsylvania Dutch traditions the strongest, especially in still speaking the language, but there were/are lots of other Pennsylvania Dutch people.