Debunking GOP Talking Points - Foreign Aid and Factory Jobs

Recently, I was forwarded an email from the Republican National Committee, with the subject line, 'Week 15: A Rebirth Of Hope, Safety, And Opportunity'. You can read the full text on DonaldJTrump.com, though without the images included in the email.
Now, the whole thing was bad, but I got hung up right from the beginning just in the introduction. Below is a quote of that introduction, followed by my response, calling out the GOP for their misleading remarks on foreign aid and factory jobs.
Over the years, traditional politicians have failed to put America First. Our factories have been shut down, our steel mills slowed, and our jobs were stolen away and shipped overseas.

Politicians sent troops to protect the borders of foreign nations, but left America's borders wide open. They spent billions of dollars on one global project after another, while failing to keep our citizens safe and allowing gangs flooded into our country.

President Trump is not going to let other countries take advantage of us anymore, because from now on it's America First!

Just imagine what we could accomplish if we all started working together to rebuild our nation, the nation that we so dearly love. Our jobs will come back home and dying factories will come roaring back to life.

Our country is seeing a rebirth of hope, safety, and opportunity. Americans are being taught to love their country and take pride in our great American land.
Let's start by putting this 'America First' talk in perspective. The American government already puts America first (or at least - the politicians' donors). The U.S. only spends around 1% of the federal budget on foreign aid. All this rhetoric about 'billions of dollars on one global project after another, while failing to keep our citizens safe and allowing gangs flooded into our country' is extremely misleading. It's talk like this that contributes to Americans having such a skewed perspective of the actual amount the U.S. spends (the average American thinks foreign aid is up around 30% of spending - Politifact). For example, here was the proposed budget from 2016 (source: Washington Post):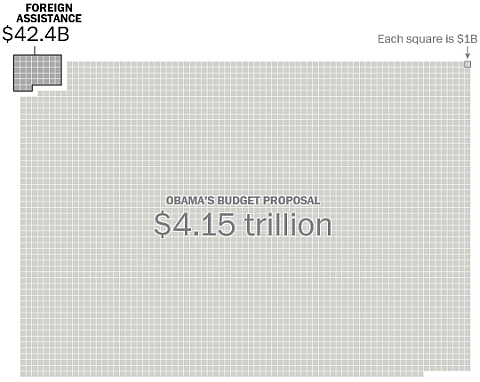 The U.S. spends over $4 trillion every year. Billions of dollars going to foreign aid may sound like a lot, but it's not that big in the overall scheme of things. Cutting all that spending wouldn't have a very big effect on the overall budget, at all. Even if the budget was balanced, that type of spending cut would amount to only a 1% reduction in taxes.
Here are some more graphs putting this in perspective - first, how much the U.S. spends on Official Development Assistance as a percentage of gross national income (not spending, which is why it's a lower percentage than the discussion above), and then second, how that percentage has changed over the years (source: CompareYourCountry.org).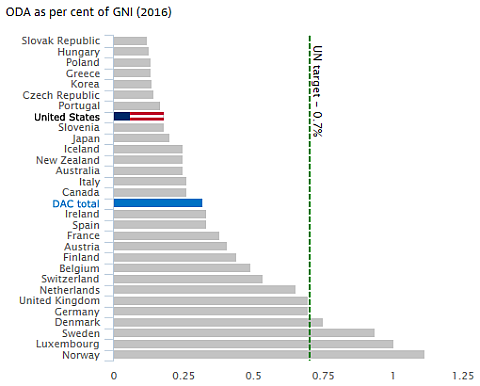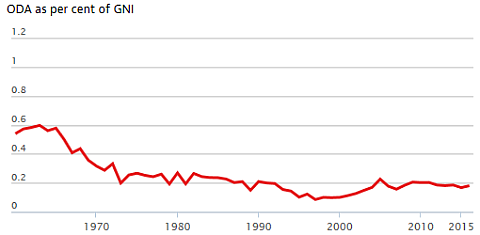 As a percentage of GNI, the U.S. is one of the lowest spenders on foreign aid among developed countries - only spending around half of the global average, and only 16% of what the most generous nation, Norway, spends. You can look at the history, too. Back in the '60s, the U.S. donated almost 0.6% of GNI - more than 3x what we do now. Granted, because the U.S. is the world's largest economy, that still amounts to the most absolute spending (but not by a whole lot). But as far as what we could afford to spend, compared to other countries, and compared to what we've done ourselves in the past, the modern day U.S. is not particularly generous when it comes to foreign aid. We already donate a smaller share of our resources than practically any other developed country.
Even if you don't care about helping the poor and destitute in other countries out of common decency, you can still look at it pragmatically. For one, U.S. manufacturers make a lot of money through the export market. Boeing can't sell 787s to failed countries. There's not going to be a big market for high end American made goods in regions where people are too poor to afford them. If we can give these regions a boost to help them on the road towards development, they could be potential customers a few years down the road. There's also the consideration of political stability (for a historical example, do you really think WWII would have happened if not for the Treaty of Versailles and the economic disaster that was for Germany?).
More Info: Brookings Institute - Myths about U.S. foreign aid

There was another statement that seemed particularly naïve:
Just imagine what we could accomplish if we all started working together to rebuild our nation, the nation that we so dearly love. Our jobs will come back home and dying factories will come roaring back to life.
Here's another figure (source: Economic Policy Institute). Take a look at American productivity. It's at record highs.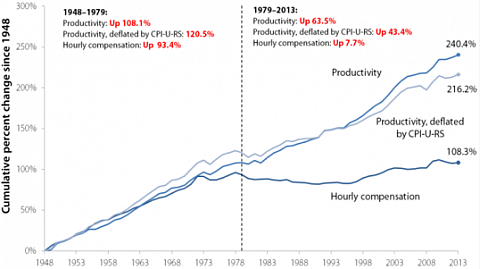 Here's what the Cato Institute has to say about U.S. manufacturing. Note that the Cato Institute is a right-wing libertarian think tank.
Reports of the death of U.S. manufacturing have been greatly exaggerated. The fallacy that trade killed manufacturing has long been a pretense for protectionism and industrial policy. But by historic standards and relative to other countries' manufacturing sectors, U.S. manufacturing remains a global powerhouse.

Claims of "rapid deindustrialization" are misplaced and often based on the declining share of manufacturing value-added relative to the overall economy. Indeed, manufacturing's share of the U.S. economy peaked in 1953 at 28.1 percent, whereas in 2015 manufacturing accounted for only 12.1 percent of GDP. However, in 1953, U.S. value-added in the manufacturing sector amounted to $110 billion, as compared to a record $2.1 trillion in 2015 - more than six times the value in real terms.

Trade critics also tend to conflate manufacturing employment with the condition of manufacturing. But declining employment in a manufacturing sector that produces record-setting output year-after-year is a sign of greater efficiency, which frees human resources for other, higher-valued added endeavors. In 2015 the stock of FDI in U.S. manufacturing surpassed $1.1 trillion, more than double the value of FDI in China's manufacturing sector (and eight times the value in per capita terms).
Here's an article from the Cato Institute, Is Manufacturing Employment the Only Thing That Counts?. They started off with agriculture as an example. In 1910, agriculture accounted for 11.8 million jobs, and 31% of the entire U.S. workforce. Today, it has declined to just 2.5 million jobs, and only 1.6% of the workforce. But agricultural production hasn't gone down. In fact, it's gone up, keeping up with a growing population, and producing a surplus to export to other countries. Barring a catastrophe, there's no way we'll return to an economy where 1/3 of the jobs come from agriculture, because technology has made those jobs obsolete.
Now, back to manufacturing. Even though factory employment has fallen, the economic value added by the sector has continued to rise. According to the Bureau of Economic Analysis, the United States set an all-time record for value added in manufacturing in 2015 of $2.2 trillion. Value added in manufacturing has risen every year since the recession ended in 2009. The United States is a competitive producer of a wide range of factory products, and ranks third as a manufacturing exporter behind China and Germany.

Given that the sector is growing year by year and is a major exporter, has the manufacturing base really been -- in the words of the White House -- "devastated"? An unbiased observer likely would conclude instead that -- as in agriculture -- fewer workers are doing a fine job of producing more goods of higher value.

Has the downtrend in manufacturing employment been driven primarily by globalization? No. An analysis in 2015 by the Center for Business and Economic Research at Ball State University showed that trade has, indeed, had a modest effect on manufacturing employment. The study found that roughly 13 percent of manufacturing job losses between 2000 and 2010 were due to international competition.

The other 87 percent of the decline, though, has come from greater automation -- robots and computers are reducing the number of workers required on factory floors. Just as in farming, productivity gains allow manufacturing employees to generate far more output than in the past. Many people would see this as progress.
U.S. manufacturing is doing quite well. There's no way that 'Our jobs will come back home', because most of them didn't go somewhere else. They simply evaporated due to things like CNC machines, robots, and other forms of automation. It's either naïve or dishonest to mislead unemployed factory workers into thinking that any type of government policies are going to bring those jobs back. (I could make a similar statement about the coal mining industry.)
This is a real problem. Factory workers are losing their jobs. Something obviously needs to be done to make sure they can find new jobs. But if you want to enact a realistic solution that's going to work and help these people, the first step is a realistic recognition of the problem. Solutions based on fantasy and wishful thinking aren't merely a waste of time - they're prolonging those people's suffering, and dragging down the overall economy for everybody else.

And that's just the introduction. I could have written just as much about pretty much every other subject in that email (and I could have written a lot more about manufacturing and blue collar jobs, too). It's just so frustrating and disheartening that this is an official email from what is currently the most powerful political party in the country. I don't know if they really believe what they write, or if it's just propaganda to try to drum up the base. Either way, it's not healthy for democracy or the country. Patriotic Americans should be denouncing these types of false narratives that do nothing to help the country and distract from the real causes of the issues we're facing.