Eclipse Watching
I was all set to break out my daughter's Astroscan telescope with the sun viewing screen for the eclipse. But when I went to go grab the sun viewing screen last night, it wasn't where I thought it was. And for a variety of home improvement & other reasons, our house is a bit of a mess right now, so further searching for the screen proved fruitless. But, at least I still had the telescope itself and the lenses. And I happened to come across a creative idea on Google this morning - a homemade sun funnel (directions from NASA). So I took a bit of an early lunch break, ran to Walmart, and bought everything I'd need to make it, then came back, and with the help of a co-worker (I have a broken foot right now and didn't want to go tramping around the shop), got it all put together just in time for the eclipse. Here are a few photos of what we saw here in Wichita Falls - the first showing our setup, the second at the max obscuration, and the third a little later, but with my camera's brightness adjusted to make the sun spots more clear.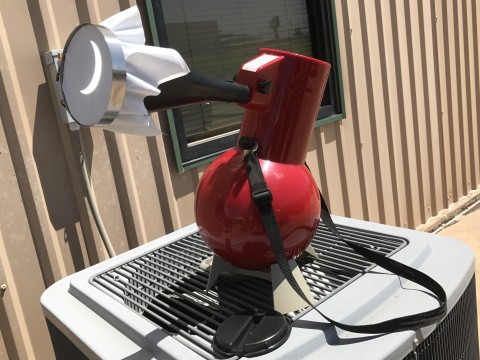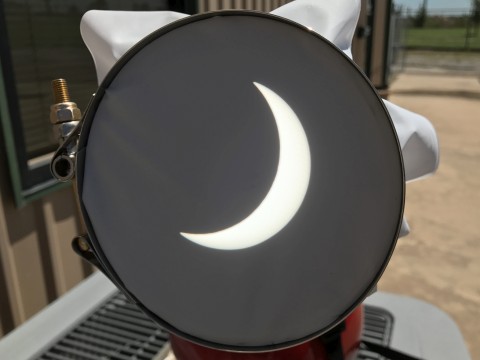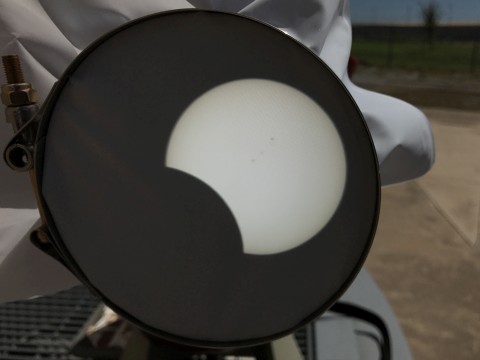 (Click on images to embiggen.)
Since we're engineers, we also couldn't resist taking measurements. We pulled out a tape measure, and took the following measurements from the image projected on the screen: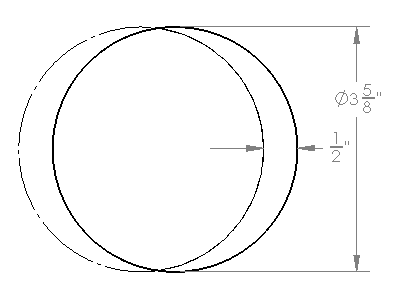 Assuming the same diameter for the moon and sun, those measurements correspond to a max obscuration of 82.5%. According to NASA, max obscuration where we were watching was 77.44% - not too bad for our less than precise methods.
Anyway, it was a nice little diversion today at work, going out every half hour or so to check on the eclipse's progress. One guy's wife and son even showed up to take a look. And the homemade sun funnel worked great - though I already have ideas for minor improvements before the next eclipse.