Happy Darwin Day 2018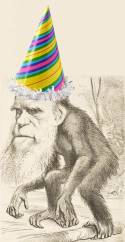 Today is Darwin Day, the 209th anniversary of Charles Darwin's birth. To reuse the same thing I've written for a few years now (origianlly here), Charles Darwin was "the man who presented evolution in such a way and with sufficient evidence that it became obvious that it was the explanation for how life developed on this planet. Others had ideas of transmutation before Darwin, and Alfred Russel Wallace even came up with a theory of natural selection very similar to Darwin's at around the same time, so it's apparent that humanity would have eventually recognized how evolution works. But Darwin's genius in presenting all the evidence for evolution in the way he did certainly gave the field a huge head start."
Although Darwin Day this year isn't getting anywhere the same attention as the bicentennial of Darwin's birth a few years ago, there are still Darwin Day events at various locations. If you want to see if there's anything near you, you can check out the list of events at DarwinDay.org. (I checked there and local calendars, but couldn't find anything for today in Wichita Falls.)
To celebrate Darwin Day on this site, I just posted a new entry today giving a concrete example of speciation:
Since the last Darwin Day, I've also created a section on this site highlighting some of my better writings on evolution, as a starting point for people who may not understand it very well. There are actually several entries there that are new since Darwin Day last year, so go check it out.
And here are a couple more entries I've written about Darwin that are appropriate for today.
Finally, here are links to external sites with good information about Darwin and evolution. The first is brand new this year, the next two are from the bicentennial celebration a few years ago, and the last is just a classic that's been around for years.