BodyWorlds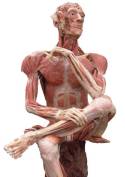 This past weekend, my family and I went down to Dallas to see BodyWorlds, the traveling museum exhibit that shows preserved human bodies in various poses and various states of dissection. After reading PZ Myers' review on Pharyngula, I was a little worried that it was going to be too artsy. But I have to say, it was great. After reading a few reviews from other locations, it seems like certain locations may not get the full exhibit, either because the venue isn't large enough for all the exhibits, or political pressure keeps the museum from displaying all of the specimens, but it seemed like Dallas had quite a bit.
If you haven't heard of this exhibit, yet, like I said above, it's made up of many specimens of preserved humans. The preservation process is called plastination, which, to quote the Dallas Museum of Nature and Science, "Plastination, invented by German anatomist Dr. Gunther von Hagens in 1977, is a process whereby all bodily fluids and soluble fats are replaced with reactive plastics that harden after curing with light, heat or gas. All tissue structures are retained." To make things even more interesting, the bodies have been dissected in various ways to show off different aspects of human anatomy (and a handful of other animals, as well). For example, there are some specimens that show all of the muscles, others that show the circulatory system, others that show the nerves, and yet others that show different combinations of systems, so that you can see how it all works together. Yes, a few of the specimens may have been overly artistic, but those were the exception, and not the rule. Aside from the "whole body plastinates" in poses, there were several specimens of whole bodies that were sliced into ~1/4" sections. These were another, very interesting, and very informative way to show how the body fits together. On top of that, there were many, many more specimens that were of individual organs, or smaller groups of organs (such as the digestive system), also disected in various ways. These included not just healthy, but also abnormal and diseased tissues, so you could see what they looked like. It also showed how much variation there is from person to person.
One of the other complaints from Myers' review that had me a little worried was this, "I like my biology wet. It's supposed to be vital and dynamic and messy and complicated, but it all ties together into a lovely integrated whole. A collection of plastinated cadavers is precisely the opposite of what I enjoy about the science: it's dead and static and distressingly dry." So here's my response to that. In our trips to Guatemala (2005 & 2006), I've been lucky enough to help out in a few of the operations and get a peek inside of a living body. My wife's a nurse, so she's gotten to see much more than I have, and she had to go through all of those anatomy classes to get her degree. And both of us thoroughly enjoyed BodyWorlds. It gives you the type of overall view that you just can't get unless you actually perform your own dissection, and that's certainly not something that's going to be available to most people. The closest most of us will ever get to that is dissecting non-human animals, which although informative, just isn't the same as seeing the inside of your own species.
One more positive review is the fact that my 7 year old daughter was interested enough in the whole thing to spend an hour and a half looking at it, up until the time they closed the exhibit and kicked us out. She probably would have spent a little more time there if we'd had it.
I guess I ought to make note of the general mood. It was, after all, an exhibit full of dead people. The atmosphere was respectful, almost like a cemetary, with everybody talking in hushed tones. For the most part, I wasn't too bothered by it, since these were mostly adults who had lived (hopefully) full lives, and who had willed their bodies to this exhibit. There's still the sense that these were once living, feeling people who were now gone, but the presentation, and the knowledge that this was how these people wanted to be remembered, kept it from being sad. That is, all the exhibits except for the babies. I must admit, those were very moving. If you think that would bother you too much, the way the exhibit was laid out in Dallas, you could bypass that section if you wanted to. But even though it was sad, I think it was still worth seeing.
So, if you're reading this and planning on going to see BodyWorlds, my advice is to buy your tickets a few days in advance. The exhibit is so popular that the Dallas museum has expanded their hours to 9 am till 9 pm. And even at that, they're selling out. We waited until the night before to buy our tickets, and they were all sold out until the 7:15 pm entry time - 7:30 was the last slot they sold tickets for (and because they were running late, we didn't get in until 7:30 - so we ended up having to rush a bit at the end just to see everything). Buy your tickets well ahead of time so you can go in the morning and look at your own pace, and then have plenty of time to go look at the rest of the Museum of Nature and Science.