More on Origin of Species
This is a follow-up to a previous entry. However, both of thses entries have been supplanted by a newer post, which combines the two, with a little editing, and a paragraph's worth of new content.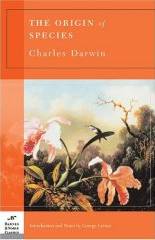 Well, I finally finished reading Origin of Species (actually, I finished it a couple weeks ago, and I'm just now getting a chance to write about it). My impressions that I wrote about in a previous entry haven't really changed, but there were two other things that struck me that I wanted to write about.
First, and maybe this is just my fault for my own ignorance, but it's changed my perception of Darwin (kind of like as an aviation buff, I always get upset when people think of the Wright brothers as just tinkerers, and don't give them their proper due as engineers). The story you're always presented with about Darwin is this naturalist who went on a voyage on the Beagle to observe plants and animals, had an epiphany at the Galapagos islands, and came up with this theory of evolution. While this is true to a certain extent, and Darwin was a very keen observer, Origin of Species had more than just his observations from the Beagle and some interesting ideas to explain it. Let me give a couple examples. In one of the chapters on geographical distribution, Darwin discusses how certain plants might spread from one pond to the other. In addition to trying to think up plausible means, he then goes on to test how plausible they might be. Consider this passage, discussing the possibility of seeds sticking to water fowl and being transported from pond to pond in that way:
I do not believe that botanists are aware how charged the mud of ponds is with seeds: I have tried several little experiments, but will here give only the most striking case: I took in February three table-spoonfuls of mud from three different points, beneath water, on the edge of a little pond; this mud when dry weighed only 6 3/4 ounces; I kept it covered up in my study for six months, pulling up and counting each plant as it grew; the plants were of many kinds, and were altogether 537 in number; and yet the viscid mud was all contained in a breakfast cup!
Later in the same chapter, Darwin discusses inhabitants of oceanic islands, and the problem of how certain animals could have come to live on them. I'll just let Darwin speak for himself on this one:
Almost all oceanic islands, even the most isolated and smallest, are inhabited by land-shells, generally by endemic species, but sometimes by species found elsewhere. Dr. Aug. A. Gould has given several interesting cases in regard to the land-shells of the islands of the Pacific. Now it is notorious that land-shells are very easily killed by salt; their eggs, at least such as I have tried, sink in sea-water and are killed by it. Yet there must be, on my view, some unknown, but highly efficient means for their transportal. Would the just-hatched young occasionally crawl on and adhere to the feet of birds roosting on the ground, and thus get transported? It occurred to me that land-shells, when hybernating and having a membranous diaphragm over the mouth of the shell, might be floated in chinks of drifted timber across moderately wide arms of the sea. And I found that several species did in this state withstand uninjured an immersion in sea-water during seven days: one of these shells was the Helix pomatia, and after it had again hybernated I put it in sea-water for twenty days, and it perfectly recovered. As this species has a thick calcareous operculum, I removed it, and when it had formed a new membranous one, I immersed it for fourteen days in sea-water, and it recovered and crawled away: but more experiments are wanted on this head.
It's this practical approach from Darwin that impressed me. He didn't just sit around trying to come up with just-so stories - when he came to a question, he'd go and get his hands dirty doing real experiments.
The other thing I wanted to discuss from Origin of Species is how it made me appreciate how much we know now. Let me explain this a bit - right now, there's a lot we don't know about a lot of things in the universe, and it kind of fills you with a longing to know the answers, even though you know you won't survive long enough to learn them. Like life on other planets - I would love to travel to other solar systems and see how complex life has developed on them, what strategies and structures have evolved in an environment completely isolated from our own, but I know that that's something I'll never know. Now, consider Darwin's condition in relation to his theory, having the limited evidence that he did. In the final chapter of Origin, Darwin wrote, "Numerous existing doubtful forms could be named which are probably varieties; but who will pretend that in future ages so many fossil links will be discovered, that naturalists will be able to decide, on the common view, whether or not these doubtful forms are varieties?" We are those "future ages!" Granted, our knowledge of the fossil record is still far from perfect, but we've discovered so many things since Darwin's time. For example, we now have a pretty good idea how whales evolved, how the first tetrapods went from water to land, how birds evolved from dinosaurs, and so many other things that Darwin could only dream of. So, while I'll still long to know the things I can't, I can at least be grateful for the things we know now, that were the longings of people in the past.