Another Surprise at the Bookstore
I wrote an entry a while ago, about finding some religious inserts in Lyra's Oxford, a short book written by Phillip Pullman as a kind of mini sequel to the His Dark Materials trilogy, as well as a few other children's books. Just recently, on the advice of several people (including Eric of the New Minority blog), I finally decided to purchase The God Delusion, Richard Dawkins' book on religion. (I'm already most of the way through it, and hope to put up a review some time within the next couple months. In short, I agree with most, though not all, of what Dawkins has written.) Just about the time I was halfway through the book, a little card fell out into my lap: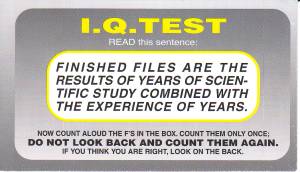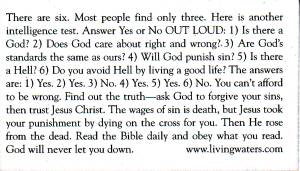 The card was printed by the same organization, Living Waters Ministries, headed by the same person, Ray Comfort, as the cards I found in Lyra's Oxford and the other books I mentioned in that entry (man, that took some restraint on my part not to use a different noun to describe Comfort). Given Dawkins' subject material, I wasn't nearly as surprised this time as when I found the inserts in the children's books, and this insert isn't nearly as disengenious. Still, it seems we have a misguided busybody at our local bookstore. Plus, it's always a bit unpleasant to be reminded of the inventor of the argumentum ad bananum.