Wichita Falls Summer Heat Wave Wrap Up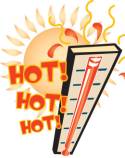 Summer's over, and the 10 day forecast has reasonable temperatures out till October 20th, so I think it's safe to assume that there aren't going to be any more heat wave records set this year, which makes now a good time to recap what records were set this year. In short, this was the hottest summer on record for Wichita Falls, combined with one of the worst droughts on record (with the potential to become the worst). Here are a few of the stats for this past summer and some of the records. All temps are Fahrenheit.
Stats:
The average temperature for June, July, and August was 91.9º, compared to 88.5º for the previous record, the summer of 1980.
Between June, July, and August, there were only 4 days where the temperature didn't reach at least 100º.

Records:
Most consecutive days over 100º - 52
Most total days over 100º - 100
2nd, 3rd, and 6th most consecutive days over 105º - 16, 11, & 9
Most total days over 105º - 66
2nd most consecutive days over 110º - 4
Most total days over 110º - 12
Most consecutive days over 95º - 73
Most total days over 95º - 115
Most consecutive days over 90º - 100
4th most total days over 90º - 137
Temperature Data Source (with a lot more info):
National Weather Service
The drought has been bad. According to Weather Underground, in June, July, and August, we got a total of 0.47" of rain, with absolutely no rain in July. We got just over half an inch in September, and just this past weekend we finally got 2.83". But there's still a lot more rain to go to get us back up to where we should be.
The heat wave and drought have been statewide, and have led to some pretty bad fires. The worst was the Bastrop County Complex fire. It burned from September 4th through the 30th, killed two people, destroyed 1600 homes and 34,000 acres of land, and caused around $250 million of insured property damage. A little closer to home for me was the fire I blogged about in August, where from my front door I watched the helicopter dropping water. Luckily, that fire caused minimal property damage, unlike so many of the other fires Texas has experienced this year.
So, it's been one hell of a hot summer here in Wichita Falls. Maybe one day I'll be able to tell my grand kids about the summer of 2011. Or maybe with global warming, this could be the start of a trend.