Support Doctors Without Borders, Get an Autographed Book from Jerry Coyne
I should have announced this before, but better late than never.
There's currently a fundraising drive going on for Doctors Without Borders. It's a very worthwhile organization, and certainly deserving of your money. Jerry Coyne, writer of the website, Why Evolution is True, has come up with a promotion to give you extra incentive to donate. As detailed in this entry, What you missed (but it's not too late!), Dr. Coyne is offering an autographed copy of his book, also titled Why Evolution Is True, to anyone who donates over $100 as part of this drive. But the offer is only valid through this Wednesday, September 26th. Details are in Coyne's post.
I wrote a brief review of the book in Book Review - Why Evolution Is True. It's my favorite introduction to evolution - just the right balance of evidence and theory, with just a touch of refutations against creationism.
As an example of what to expect, here's the way he signed the book for us.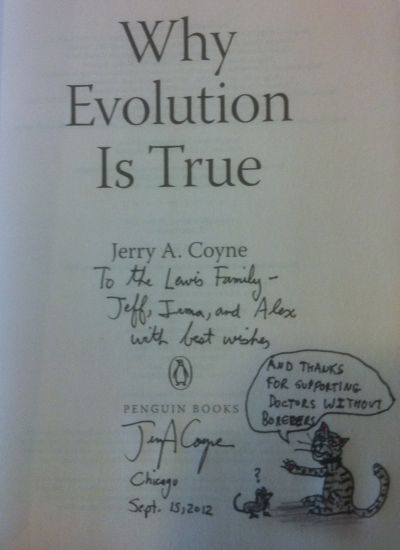 What are you waiting for? Go donate before it's too late (well, it's never actually too late to donate to an organization as worthwhile as Doctors without Borders, so even if you missed Dr. Coyne's promotion, go donate, anyway).