Book Update - New Edition!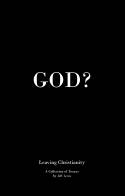 I've published a second edition to my book, Leaving Christianity: A Collection of Essays ($4.99 from LuLu). To paraphrase from my own review* of the book, this book is a collection of essays I wrote during and after my 'deconversion' from Christianity. I kept it to a length that should be informative without being overwhelming (~100 pages), so it could be a good primer on non-belief. I've given copies of the first edition to several friends, all of whom have said it was interesting. Obviously, you wouldn't expect friends to tell you your book was horrible, but one of them even went out and bought 10 copies of it so that he could give it away to other people.
This second edition adds two new essays that I thought filled some holes. The first of those additions is actually a review of the book, More Than a Carpenter. It was a nice way to address many of the arguments that Christian apologists actually use. The second addition was an essay on Standards of Evidence for Religion. Since I had the opportunity, I also fixed typos and made several small revisions throughout the book, but nothing that would have merited a new edition on its own.
In all honesty, I think this is a decent book to introduce people to atheism, and I think everybody should rush out and buy a dozen copies. (Well, metaphorically rush out. You can only buy the book online from Lulu or Apple's iBooks.)
Just in case you missed the other links to purchase this book, here's one you can't miss:
Buy the Book - Leaving Christianity: A Collection of Essays
---
All of the essays in this book are available for free on this site, in my Religious Essays section, incorporating all the changes made for the second print edition. So, you can read it all for free if you want to. I just think a print copy is nice (not to mention a great gift).
*That's not as pretentious as it sounds. I was reviewing all of the books I'd read that year, and threw that one in among many.