Follow Up: Leaving Comments on Other Sites - Birds as Dinosaurs and Fossil Evidence for Evolution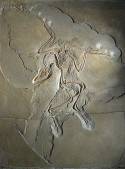 A little less than two months ago, I left a couple comments on the blog, Across the Fruited Plain, in the entries, Are Dinosaurs Alive Today As Birds?: Refuting Archaeopteryx as "Evidence" for Evolution and Refuting Fossil "Evidence" for Evolution: The Data is NOT in the Strata. After about a week with my comments being held up in moderation, I decided to post them on this site in the entry, Leaving Comments on Other Sites - Birds as Dinosaurs and Fossil Evidence for Evolution. As I wrote in that entry, "Despite it not being a particularly active blog, I caught a case of SIWOTI syndrome and couldn't resist commenting."
Well, the writer of the blog has finally approved my comments and left a couple responses of his own. Unfortunately, so far, the discussion hasn't been particularly productive. In my first comment to his entry on fossil evidence for evolution, I was trying to correct his misrepresentations and misunderstandings of the science. Here's his initial response, in full.
Hello Jeff!

Thank you for your message.
You have made many knowledge claims, but since we do not know each other and I don't know what your epistemological groundings are, my question is, can you be wrong about everything you claim to know?
If you follow this blog at all, you can probably guess at my answer. I started off by saying that "Of course I could be wrong," and then gave a brief explanation of the sort I've made numerous times on this blog - that absolute certainty is impossible, but we can have varying levels of confidence in different ideas (for an example, see my essay, Confidence in Scientific Knowledge, or the related, but not quite as relevant, Confidence in Historical Knowledge)
His followup began in a very unpromising manner, "Therefore, if you could be wrong about everything you claim to know, then it follows that you do not know anything." It then went on from there with different variations on the theme that I've somehow admitted that knowledge is impossible because certainty is impossible.
My next reply wasn't as polite as perhaps it could have been (I lead off by asking, "Are you being obtuse on purpose?"), but it was mostly constructive and civil. I basically said that I wasn't going to get drawn into a discussion on epistemology when his own post was originally about evidence for evolution, and then reiterated my original points.

He also responded briefly to my comment on the bird entry, with a portion of his response wondering "how two creatures, who could not be more biologically different, are directly linked spontaneously through Macro Evolution". I responded with a comment listing the common features of dinosaurs and birds, but I now notice that that comment of mine is held up in moderation. Hopefully he'll approve it relatively soon.

I'll see how the conversation goes. I'm hoping he'll stay on topic with his original posts and discuss evidence for evolution. If he goes back into all the post-modern mumbo jumbo, I don't think I'll have the stomach to keep the conversation going.