Follow Up, Part II: Leaving Comments on Other Sites - Birds as Dinosaurs and Fossil Evidence for Evolution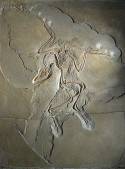 As I wrote in my last entry, Follow Up: Leaving Comments on Other Sites - Birds as Dinosaurs and Fossil Evidence for Evolution, a little less than two months ago, I left a couple comments on the blog, Across the Fruited Plain, in the entries, Are Dinosaurs Alive Today As Birds?: Refuting Archaeopteryx as "Evidence" for Evolution and Refuting Fossil "Evidence" for Evolution: The Data is NOT in the Strata. It took a little while for the owner of the blog to approve my comments, but he finally did, and we got into a little back and forth. As I wrote in my previous entry, I was worried that the conversation would degrade into one on the nature of knowledge, not his original topic of evolution. And while I even wrote, "If he goes back into all the post-modern mumbo jumbo, I don't think I'll have the stomach to keep the conversation going," he managed to suck me into the conversation. It wasn't very productive - neither of us did any convincing of the other. However, it is rather enlightening into the mindset of a creationist. So, rather than waste more time in a pointless discussion, I left one final comment with the following conclusion.
Anyway, I'm done discussing epistemology. If you want to leave one more response to get in the last word, you're welcome to it. But I don't see this as a fruitful discussion. I'll keep on making arguments of the sort, 'In nearly all cases, absolute certainty is not possible, but we can still still have a very high degree of confidence in various claims, and the pragmatic approach to life is to not worry about the most outlandish, unlikely claims. We can always be mistaken, and your claim to absolute knowledge through Yahweh is just one example of people being mistaken in their beliefs.' And you'll keep making arguments of the sort, 'Aha! You admit you don't have absolute certainty, therefore you can't know anything. Whereas I believe in God, and can therefore have absolute certainty.' It'll just be longer, use more examples, longer words, and maybe even a bit more Latin, but the conversation won't go anywhere. It's fruitless.

If you do want to continue a conversation, I'd be happy to discuss the original topic of this blog post - birds, dinosaurs, and evolution. Even if you think I lack the epistemological basis to 'know' things, you believe that you don't have that handicap. So, unless you're going to imply that I really am living in the Matrix and this world isn't real, you at least should accept that the real world exists, and that the fossil and other evidence I'm trying to show you exists. So, you should be able to comment on your interpretations of that evidence. Otherwise, it seems like you're trying to evade the conversation.

And, just as a reminder, the questions I posted on your other entry, Refuting Fossil "Evidence" for Evolution: The Data is NOT in the Strata, still stand. You made several claims about evolutionary biology, geology, paleontology, etc. So, ignoring my supposed inability to 'know' things, what is your interpretation of the objections I posted? Do you have any evidence-based arguments against what I wrote, or are you just going to go back to arguing the nature of evidence and imply that my worldview doesn't allow me to know anything, thereby avoiding my questions?
If the conversation does progress to something productive, I'll probably make note of it here.
---
As an aside, I'm going to miss my Friday Bible Blogging entry this week. I've been a bit sick all week, and I just lacked the energy and conviction to read through another ten chapters of the Bible. It's already a bit of a chore even when I've feeling completely healthy. This conversation on the other blog, while a bit exasperating, was easy enough to keep up with without much thought or spending too much time on it.