War on Christmas 2014

Christmas is only two weeks away. Maybe I just haven't been following the right news sources, or maybe the issue's dying out, but I haven't heard a whole lot about the War on Christmas this year. I did Google the phrase, and found that the right wing site, The Blaze, still has several War on Christmas articles (and they're written from the oblivious position you'd expect from a site like that - how dare those atheists insist my city actually follow the law, even though a majority of our residents want to break the law), but even there there were only 10 articles from this year - hardly a raging war. Thank goodness. I'm hoping the right wing types who get so bent ouf of shape over the separation of church and state or the inclusiveness of saying Happy Holidays are finally getting over themselves and that in a few more years the only mention of the War on Christmas will be people remembering curiosities from the past.
Anyway, I've written a few good 'war' posts in the past that are still interesting. The first two links below are my favorites. The first includes a historical perspective on Christmas, and how it wasn't always the warm and fuzzy holiday it is today. I especially like the quote from a historian who described Christmases past as "a nightmarish cross between Halloween and a particularly violent, rowdy Mardi Gras." Actually, that sounds kinda fun. The second article is about the attitude that people have taken towards Santa Claus that I just don't understand. Why do we insist that children earnestly believe in this silly myth, even once they get old enough to start questioning its plausibility? Like I point out in the article, everybody has a good time with their kids around Halloween with ghosts, goblins, and vampires without pretending they're real. Why can't we let kids enjoy Santa Claus the same way? On the other hand, there's a meme* that's gone around about Santa that I find pretty funny.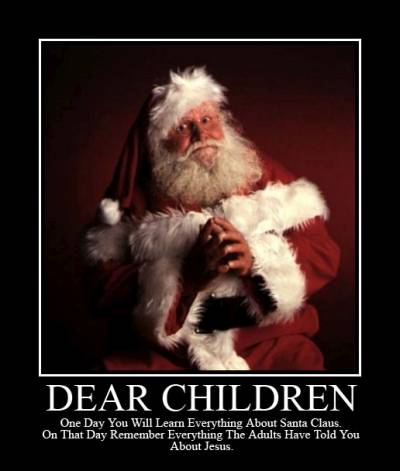 Source: Master Marf (no idea if that's the original creator)
I guess I rambled a bit there. Anyway, here are my previous War on Christmas posts:
But I really do like Christmas. My wife's already put up the tree in the house. I've already decorated our big tree out front. My daughter's been checking her advent calendar every day. I'm close to having more Christmas songs stored on my computer than what's actually possible to listen to on Christmas Day. And when that day finally gets here, we'll do the presents, visiting with family, a big Christmas dinner. In fact, we do pretty much everything associated with Christmas other than go to church. So, here are a few of the positive Christmas posts I've written.
And as a bonus, here are links to humorous Christmas related pages on other sites.
---
* I really don't like how to many people, the term, meme, has become synonymous with a picture with a catchy sarcastic saying, rather than Dawkins' original coining, but I guess that's the way language works. Speaking of, here's one I just came across from Meme Generator that's rather fitting for this entry: