Jesus Saves! Jelly Beans
While doing some shopping over the weekend, I came across these jelly beans at Hobby Lobby: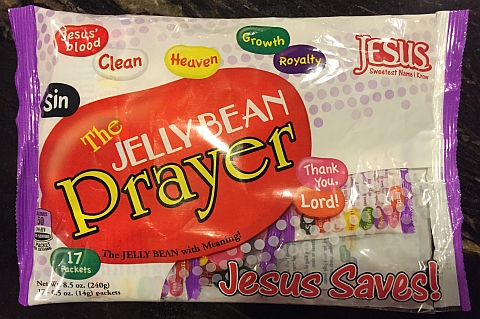 They're just so over the top absurd that I couldn't resist buying them for my daughter for Easter. (Just so you know, she's old enough to think these are funny and not take them seriously.)
The big package contained 17 individual smaller packets, and each of those smaller packets had the following jelly bean prayer on the back: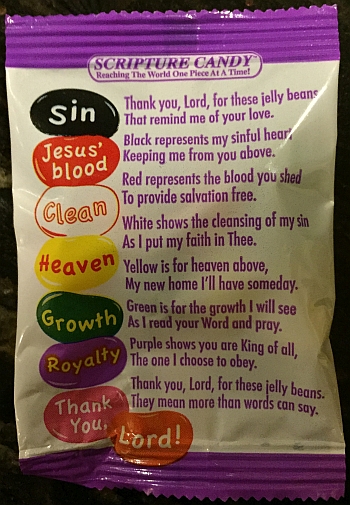 I think it's funny that they made the black jelly beans 'sin'. Apparently, not even God likes licorice flavored candy*.
I was a little disappointed to discover that the jelly beans inside weren't stamped with the words they're supposed to represent. If you dump these jelly beans out into a serving tray you'll just end up with plain old jelly beans, but think what a conversation starter it would be to have a bowl full of Jesus' blood and sin flavored candy. They do have Jesus themed rip-offs of Sweethearts, but I think one bag of Jesus candy is enough for me.
---
*Full disclosure: I actually do like black licorice. Sin never tasted so good.
Update 2015-04-07: Replaced images with slightly better ones that I took last night (original ones were here and here, where that second one I borrowed from Amazon).