Pysanky Easter Eggs
For a while now, I'd been wanting to try to make Pysanky eggs for Easter, but every year I'd thought about it too late to get anything delivered in time, and none of the local hobby stores sold the right supplies. Well this year, I finally remembered to order a Traditional Ukrainian Egg Decorating Kit

from Amazon a few weeks before Easter, and my daughter and I decorated a few eggs. I only had enough time to do one, and the result isn't worth showing here. But my daughter does pretty good at these types of things, and she had enough time to decorate three eggs. Here are the results: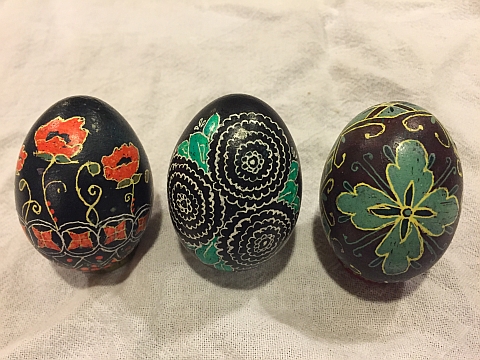 We'd originally figured that our first attempts wouldn't be worth saving, so we started off on hard boiled eggs that we'd turn into the traditional Easter deviled eggs. And while that prediction was true enough for me, it was a bit off for my daughter. Still, she ended up decorating two hard boiled eggs before she went the more traditional route of blowing out the yolk and white of a raw egg to decorate an empty shell.
In case you've ever wanted to try this and wondered about the cheaper more traditional styluses vs. the electric ones, the cheap ones worked just fine for us after a few minutes of figuring out how to get them to work properly. You'll need a candle, but once you melt the wax in the reservoir, you can 'write' for a decent amount of time before having to re-heat the stylus. It wasn't really a pain at all to keep putting the stylus back into the flame.
Anyway, it was fun, and I think the results turned out pretty good (for my daughter at least). I'm pretty sure we'll try the same thing again next year.